Miquel eyes more playing time
Arsenal's 19-year-old central defender Ignasi Miquel has admitted that he is not used to playing as a left-back.
Last Updated: 01/12/11 10:18pm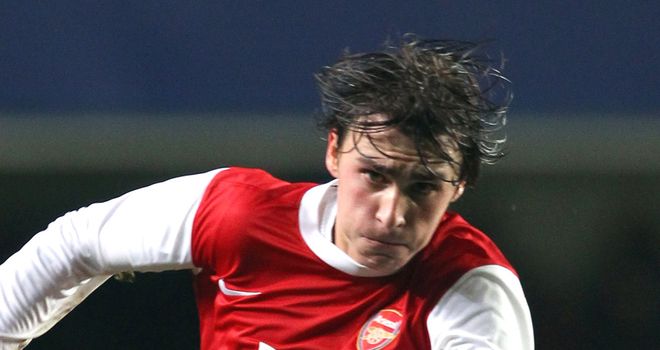 Arsenal defender Ignasi Miquel has admitted that he is not used to playing as a left-back but is willing to being deployed in any position in order to feature in the first team.
The teenager made his fourth appearance of the 2011/12 season for the Gunners in their 1-0 Carling Cup quarter-final defeat to Manchester City at the Emirates on Tuesday.
Miquel played at left-back instead of his accustomed central defensive position against Roberto Mancini's side and concedes that he did not find it easy in an unfamiliar role.
Hard game
"I played left-back again and I'm not used to that," the 19-year-old told Arsenal's official website. "I have been injured for the last two weeks and so my fitness wasn't quite what it could have been either. It was quite a hard game.
"But if you get the chance to play for the first team you don't care where you play. I know this is a hard position for me to move from centre-back to left-back but if I get the chance I really don't mind.
"I think there were some good things and some bad things in my performance overall. It was alright I think but obviously I wasn't happy with the result in the end."
Working hard
Pondering on his future with the Arsenal first team on a regular basis, Miquel said that he hopes to follow in the footsteps of Emmanuel Frimpong and Francis Coquelin.
"They've been around with me for maybe three or four years now," enthused the Spaniard. "I'm so happy to see them getting games now and obviously for my next step I will try to be like them and get in there myself.
"I'm really happy for them and that I can be here too. I think the main thing now is to work hard. You learn from your mistakes. I don't think I can do much more.
"If I work and try to see what I've done wrong then I can only improve. It's the only way to grow."