Luiz - Next games decisive
David Luiz has insisted there is no crisis at Chelsea but believes they have to beat Newcastle and Valencia to keep their dreams alive.
Last Updated: 02/12/11 9:16am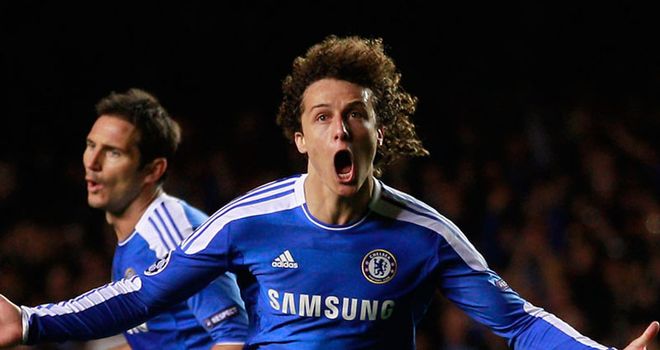 David Luiz has insisted there is no crisis at Chelsea but believes they have to beat Newcastle and Valencia to keep their dreams of a successful season alive.
The Blues have slipped 10 points off the pace in the Premier League following an inconsistent run over the past few weeks, which also saw them exit the Carling Cup, while they have not yet secured passage to the last 16 of the UEFA Champions League.
Andre Villas-Boas has come under pressure ahead of Saturday's trip to Newcastle, even though he says he has been assured over his future by owner Roman Abramovich.
Luiz does not feel there are any major problems at Stamford Bridge, but accepts that it is vital to pick up three points at St James' Park.
The Brazilian defender also recognises that the European clash with Valencia next Tuesday is another must-win game, although his concentration for now is solely on beating the Magpies.
"We are not a team in crisis but the games with Newcastle and Valencia will be decisive for us," he said in The Sun.
"We have suffered a series of bad results and there has been a lot of pain in the dressing room.
"But now is the moment for take-off and we are determined to win our next few matches.
"We must beat Newcastle and Valencia to stay in with a chance of winning the Premier and Champions Leagues.
"But we're not thinking ahead to the Valencia game on Tuesday - our focus right now is Newcastle.
"They have been a revelation this season and have emerged as a rival similar in terms of danger to Manchester United."
Luck
Luiz, a big-money arrival from Benfica in January, has been criticised for his performances in recent weeks as Chelsea have struggled for defensive solidity.
He admits he has not been at his best but has vowed to keep working hard to improve and repay the faith shown in him by Villas-Boas.
"This season has not been a positive one for me," said the 24-year-old.
"But I intend to improve by working harder each day - and I'm hoping for a little more luck.
"AVB is a good coach but all coaches and players need a period to adapt to each other.
"The Premier League is a very hard competition and not is easy to offer top levels from the first day.
"But the season is long and Chelsea is a team that always takes its chances at key moments. So I remain very optimistic.
"People have been talking lately about crazy mistakes but I have a strong mentality.
"I am a very strong guy and these type of comments don't touch me.
"I have a great relationship with the supporters because I don't know how to be an actor."