Djourou desperate for success
Johan Djourou insists Arsenal's players are desperate to end their seven-year wait for a trophy.
Last Updated: 02/12/11 10:23am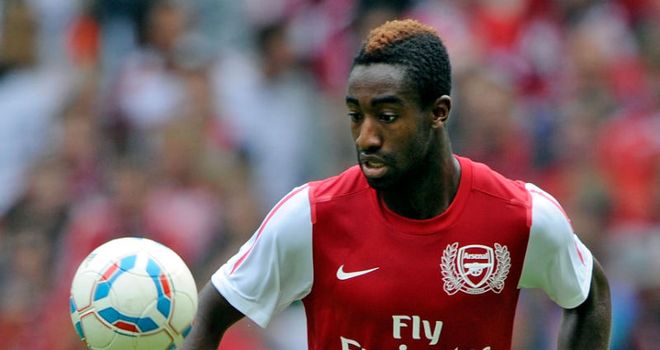 Johan Djourou insists Arsenal's players are desperate to end their seven-year wait for a trophy.
The Gunners defender was just 18 the last time his side won a competition, which was their FA Cup final success over Manchester United in 2005.
This season, they are still involved in three competitions; the FA Cup, the UEFA Champions League and they are seventh in the Premier League.
The North London outfit face a trip to Wigan this weekend with the knowledge that a win could lift them up to fourth in the table.
Arsene Wenger and his players have come through a degree of adversity this season, but Djourou feels the criticism has often been unwarranted.
Philosophy
He told The Independent: "He doesn't deserve it. Maybe we wouldn't be here if he had another philosophy.
"If he was going to buy £20m players in every position then we wouldn't be here. It's a philosophy that's been great and we have to repay him for that.
"We want to do that on the pitch and we're going to try and win that silverware now."
Carling Cup
Arsenal were beaten 2-1 by Birmingham in the Carling Cup final at Wembley last season, stretching their wait for league cup glory to 18 years.
But Manchester City's 1-0 win at the Emirates Stadium on Tuesday means Arsene Wenger's side will not appear in their second final in as many years.
In the space of just two weeks following their defeat to Birmingham last term, Arsenal were also knocked out of the Champions League and the FA Cup.
Djourou believes it was a season-defining moment for the club: "We came so close in the Carling Cup last season. If we'd won that then I believe there would have been a lot of glory after that.
"I'm saying that now, but there's no real point in saying it. It was a factor that was very important.
"We hadn't won for a long time, we hadn't been in a final since the Carling Cup against Chelsea or the Champions League before that. It was a long time without being in a final and we were so close to winning it as well.
"It was a big disappointment. Then we play Barcelona (in the Champions League), we lose that and then we're out. Then we lose to Man United and we're out of the FA Cup. Then we just had the league.
"It was too many disappointments in too short a space of time and I think it was too much for the team to take."