Britton plots more Kean misery
Swansea midfielder Leon Britton hopes to pile the pressure on Blackburn boss Steve Kean with a win at Ewood Park.
Last Updated: 02/12/11 4:29pm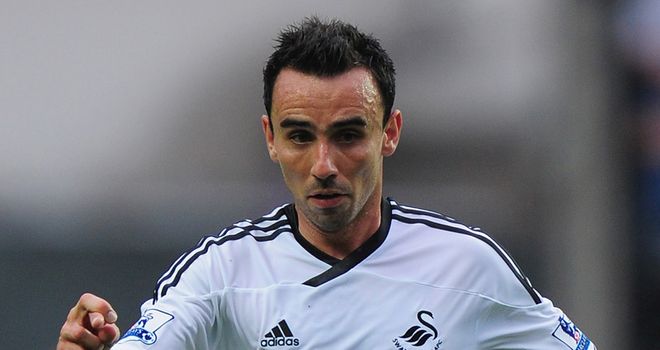 Swansea midfielder Leon Britton is looking to pile the pressure on Blackburn boss Steve Kean with a win at Ewood Park on Saturday.
But the 29-year-old has praised the Rovers manager for the dignity he has shown during the recent turbulent times.
Blackburn are two points adrift at the foot of the table ahead of the Swans' visit to Lancashire and are without a Premier League win since they beat Arsenal 4-3 in September.
But Swansea's away form has been equally poor as they have not won on the road in the top flight since May 1982.
More protests are expected to be voiced against Kean on Saturday afternoon which is something that Britton wants to take advantage of.
Unrest
He said: "If we can get an early goal there may be a bit of unrest among the fans and they could get on the players' backs if we did that.
"If we don't it won't be the be all and end all, we want to win the game and if it takes until the 89th, 90th or 91st minute we'll take that, but we are looking for a bright and quick start.
"I have played in teams getting booed off at half-time and it has an adverse effect.
"People pay their money and are entitled to their opinion but if the team are struggling it's not what you want to hear as players.
"When you see the protests against the manager it must be tough, he has dealt with it well and come out of it with a lot of credit when you consider that every home game they are protesting and wanting him out.
"It's probably worse when you are at home, if you go 1-0 down the fans can get on your back and every misplaced pass is groaned at and you go inside your shell a bit."