Perch ready to fill in
James Perch has insisted he is happy to play anywhere as Newcastle face up to a defensive crisis in the wake of Steven Taylor's Achilles injury.
Last Updated: 04/12/11 4:57pm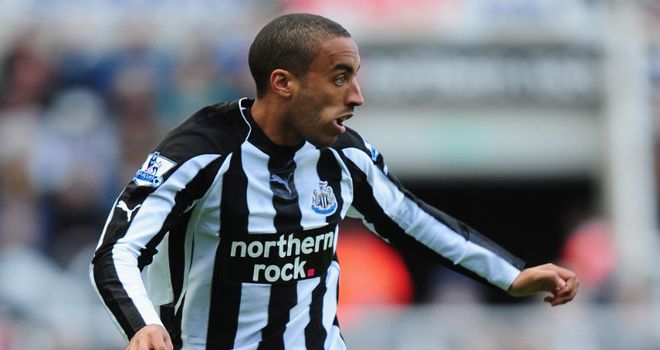 James Perch has insisted he is happy to play anywhere as Newcastle face up to a defensive crisis in the wake of Steven Taylor's Achilles injury.
The Magpies have had consistency of selection at the back this season and their solidity has been one of the factors behind an excellent run of form.
However, Taylor is now likely to miss the rest of the campaign after Newcastle confirmed that he would require surgery after limping off at the end of Saturday's 3-0 defeat against Chelsea.
Fabricio Coloccini had earlier gone off with a thigh strain that leaves him doubtful for next Saturday's clash with Norwich, while Mike Williamson is still working his way back to fitness.
Perch came on for Coloccini and is certain to start at Carrow Road as Alan Pardew has a lack of options in central defence.
"We lost two centre-halves on Saturday, which is not ideal for any team and we have only got those two centre-halves, really," said Perch.
"It looks like we are going to have bodies filling in and doing the best we can do. That's all we can do."
Happy
Perch was signed by former boss Chris Hughton from Nottingham Forest during the summer of last year, and marked his arrival in the Premier League with yellow cards in each of his first five games.
In recent weeks, he has been used by Pardew as a substitute in a holding midfield role, but will be happy enough if he is asked to start in the middle of the back four.
He said: "I have had this question since I was 16 years old, 'Where do I prefer to play?' and it's one of those.
"Whichever one I say, I always tend to do the other one the week after, so I am just going to say I like playing football and wherever I play, I am happy with it."
Perch and his team-mates were far from happy on Saturday afternoon as their fortunes took a major turn for the worse.
Where they had received the benefit of a highly contentious penalty decision at Manchester United last weekend, they found themselves on the wrong end of an equally controversial ruling by referee Mike Dean this time around.
The meaningful part of David Luiz's visit to Tyneside looked to have lasted just four minutes when he hauled Demba Ba to the ground after the striker had run past him on to Yohan Cabaye's through ball.
But Dean, inexplicably in Pardew's eyes, produced only a yellow card, later revealing to little less incredulity that he felt Ba did not have the ball under control.
Perch said: "As soon as he [Ba] went down, I thought: 'It's a sending-off, stonewall'.
"It was a surprise that he gave the yellow. We couldn't believe it, it was incredible.
"Had we got that decision, it would have changed the game."
Krul praise
Chelsea made the most of Luiz's escape, although they were repeatedly thwarted by Magpies keeper Tim Krul, who made a superb save from Frank Lampard's 14th-minute penalty after Daniel Sturridge, who later hit the post, had been tripped by Cabaye.
At times, only Krul stood between the visitors and a commanding lead, and Perch had nothing but praise for the Dutchman's performance.
Perch said: "He's playing that well, he's disappointed when things don't go his way and he lets goals in.
"But he can be when he is playing to the high level he is playing. Pulling off world-class saves like he is doing, he deserves a bit better than losing 3-0."