Schwarzer: Tiredness no excuse
Mark Schwarzer says Fulham cannot use tiredness as an excuse for any poor performances.
Last Updated: 04/12/11 8:42pm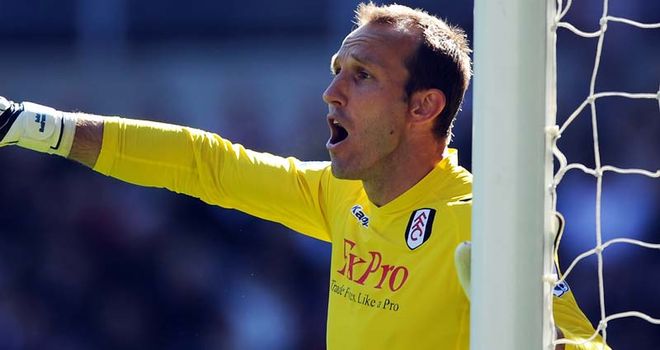 Mark Schwarzer says Fulham cannot use tiredness as an excuse for any poor performances, despite having played 27 games already this season.
The goalkeeper has played club football for more than two decades and has been a mainstay for Australia since his debut in 1993.
The 39-year-old is still playing at the top of his game and says fatigue cannot be used as an excuse by the players.
Schwarzer said: "It's one of those things. When people ask me about the national team and the amount of travelling and the number of games that we play, for me it's all about a mental approach and a mind-set.
"You've got a long time to recuperate after you've finished playing. When you talk about the demands of the English Premier League, yes they are tough.
"But you're playing in one of the best leagues in the world and do you expect any different?
"I don't have to play for my national team. I want to play for my national team, if I'm selected, as much as possible. It's an honour.
"If anyone asks me if I want to play a game of football or a manager asks me if I want to play I will always respond in the same way because I want to play as many games as I possibly can."
England
The Australian also says England cannot use exhaustion as an excuse for repeated failure at major tournaments.
He added: "It is interesting because if you look at the players who have played for England, there are a lot of players who have been rested a lot of the time as well.
"They're playing for big clubs with big squads and there's a lot of resting going on between games as well, which is great.
"That gives these guys the maximum opportunity to recover and be right for the next game. I think as well it depends on the atmosphere of the group of players.
"[If you look at 2010], at the back of the season when we got to the Europa League final and I played seventy games, I then went to a World Cup.
"If that's not enough to lift anyone then nothing in football will be enough to lift you.
"It's the environment. When I get to go away with the national team it's a completely different environment, it's a different buzz and you're raring to go.
"You want to be successful. You want to be together as a team as long as possible."
European hangover
Fulham are yet to win a Premier League game this season after playing in Europe but Schwarzer remains philosophical.
"It can be tough at the beginning because you can get frustrated if results go against you a little bit, but you've got to take a long-term approach.
"You've got to look at it and think: 'OK, well the games may have gone against us this weekend, but we've got 38 league games to play this season and cup games as well'.
"The league is obviously the number one priority and there are enough of us in the squad at Fulham who are experienced enough to realise that and we make sure that everyone is aware of that as well."