Mata hopes for Drogba deal
Juan Mata believes Didier Drogba remains one of the world's deadliest frontmen and is hoping he can be convinced to remain at Chelsea.
Last Updated: 07/12/11 2:41pm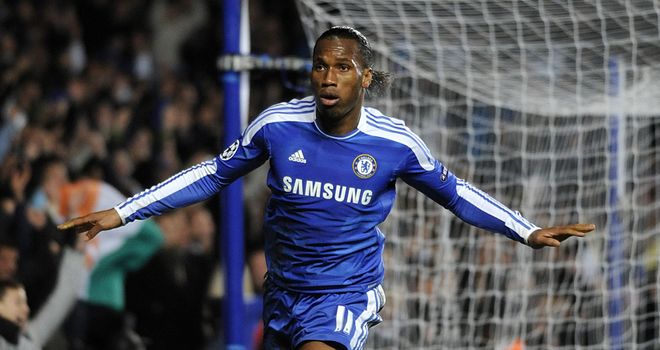 Juan Mata believes Didier Drogba remains one of the world's deadliest frontmen and is hoping he can be convinced to remain at Chelsea.
It has been suggested that the Ivorian striker could be on the move in January, with his current contract at Stamford Bridge set to expire at the end of the season.
Chelsea would be reluctant to see him walk away for nothing and a switch to ambitious Russian outfit Anzhi Makhachkala or a return to Marseille have been touted.
The Blues are, however, still hopeful that they can persuade Drogba to agree fresh terms.
It is understood that the offer currently on the table does not meet the 33-year-old's requirements, but Mata is among those hoping a compromise can be reached.
Important
"Didier is a super striker," the Spaniard told the Evening Standard of a striker who has netted four goals in his last six appearances, including a brace in a crucial UEFA Champions League clash with Valencia on Tuesday.
"He is strong and fast, scores goals and makes assists. He is very important for us and against Valencia he showed it.
"I don't know what is happening. It is an individual decision between the club and Didier but for us it is important to have strikers like Didier, Fernando Torres and Salomon Kalou."
A Drogba-inspired 3-0 victory over Valencia in midweek has allowed Chelsea to book their place in the knockout stage of Europe's premier club competition.
They are now in a position to turn their focus back to domestic action, with an eagerly-anticipated meeting with table-topping Manchester City on Monday providing the Blues with an opportunity to haul themselves back into the title race.
Mata added: "It's not impossible for us to still win the title.
Critics
"There are so many weeks until the Premier League finishes and we will keep going every week to win and to be closer to first place.
"Have we answered the critics? Yes, with the win against Valencia and the last game at Newcastle. These two games have given us more confidence and we have to train this week very well to play against City. That is a very important game for us as well.
"We want to change our record in the big games this season because we lost against Liverpool, Arsenal and Manchester United but we hope against Manchester City we change this bad thing.
"City are having a great Premier League. They are the leaders, they win every game, but we hope here at Stamford Bridge they will have a difficult game.
"Is it a game we can't afford to lose? I don't know. We hope to win, that is all we are thinking about. We never think about losing."