Vorm - We can handle pressure
Michel Vorm says Swansea City are under pressure after a poor run of form has seen them slip towards the relegation zone
Last Updated: 07/12/11 4:17pm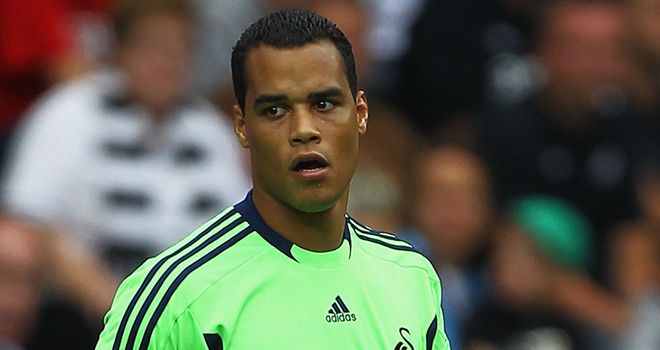 Michel Vorm says Swansea City are under pressure after a poor run of form has seen them slip towards the relegation zone - but he has backed his team to bounce back against Fulham this weekend.
The Swans are without a win in four games and suffered a 4-2 defeat at crisis club Blackburn on Saturday.
They are yet to pick up a win away from home this season losing five of their seven games on the road.
However it has been a different story at the Liberty Stadium with Manchester United the only side to take three points away from South Wales.
Vorm has been in good form this season, announcing his arrival in the Premier League with a string of good saves against Manchester City on the opening weekend of the season.
And the Dutch international believes the Swans can beat any side at home, telling the South Wales Evening Post: "We have to win next weekend.
"We can beat anyone at home. We have to make fewer mistakes and start with a good mentality.
"We started with a good mentality, but in matches against Blackburn, Norwich and Wolves we have to bring more.
"These kind of matches are more important than playing against Manchester United or Liverpool. Blackburn are a team below us and we knew they would fight for every ball."
Perform
Brendan Rodgers' side acquitted themselves well against Liverpool picking up a draw at Anfield and putting champions Manchester United under pressure in the 1-0 defeat, but now Vorm wants Swansea to perform like that against the smaller teams in the league.
He added: "As a team we have to do more. We have to give more in these matches.
"Any player can give more against Liverpool. It's easy to do that.
"We have to learn really quickly because the competition is going so fast and Blackburn are coming up fast now.
"If you want to win matches like Blackburn you have to have a better mentality.
"We must learn from it and make sure we win our games at home. The pressure is on us. Saturday against Fulham is very important."