AVB denies Lampard talk
Chelsea boss Andre Villas-Boas has dismissed reports linking midfielder Frank Lampard with a move to LA Galaxy.
Last Updated: 09/12/11 3:47pm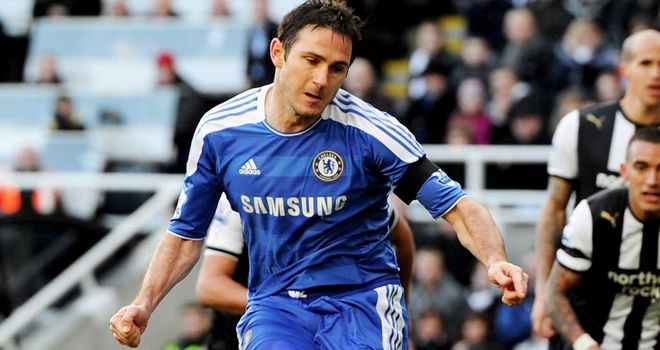 Chelsea boss Andre Villas-Boas has dismissed reports linking midfielder Frank Lampard with a move to LA Galaxy.
Lampard appears to have fallen out of favour with Villas-Boas in recent weeks, fuelling suggestions the 33-year-old may not have a part to play in the Portuguese manager's revolution at Stamford Bridge.
He was substituted early in the second half against Newcastle last weekend before being forced to spend Tuesday night's UEFA Champions League win over Valencia on the bench, marking the first time since 2003 that he was not selected to start a significant game when fit.
Snubbed
Those snubs have prompted speculation the midfielder could make a move across the pond to ply his trade in Major League Soccer with Galaxy.
But Villas-Boas has stamped on such reports, telling a press conference on Friday: "I have no idea. There is nothing from our side."
He added: "We have a lot of competence in the team. Everybody is challenging for their place. The conversation for Lamps is exactly the same for all of the players.
"All of them are competing to be the best, to be in the starting eleven. All of them deserve credit and he'll turn things around for sure."
Villas-Boas admits it is a different matter for Nicolas Anelka and Alex, who are no longer training with the first team after handing in transfer requests.
But the manager vehemently denied that a training-ground row with the duo drove them out of the club, as reported by The Sun on Thursday.
"There is a story that is completely wrong in yesterday's Sun," added the manager. "If the informant got paid then please get the money back because it's completely wrong."
It remains uncertain where the duo will be plying their trade come the New Year and Villas-Boas expects the transfer rumours to rumble on.
"It's a different situation (to Lampard) because it's a transfer request that's been accepted," he said.
"(Alex) will be linked to everybody in the world because he's a top quality player, and Nico is the same. He's been linked to everybody. For sure it will continue until the transfer window opens."
Benefit
Asked if the pair will train with the first team again, the boss added: "Not at the moment but it doesn't mean it can't change.
"These are players of top integrity, top human values and we respect them. The impact for the group was tremendous.
"The group also misses their relationship with us but it's something that we felt was for the benefit of the team. Again, it can change from one week to another but at the moment that's not likely."