McCoist - Aluko will bounce back
Rangers manager Ally McCoist is confident Sone Aluko will quickly recover from the disappointment of being banned for diving.
Last Updated: 09/12/11 7:59pm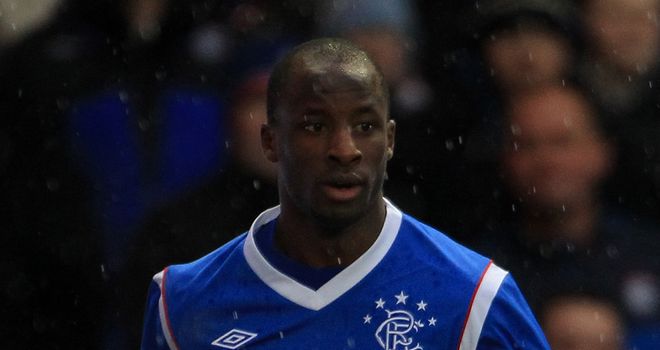 Rangers manager Ally McCoist is confident recent signing Sone Aluko will quickly recover from the disappointment of being banned for two games for diving.
Aluko was punished by the Scottish Football Association after being found guilty of simulation in Rangers' 2-1 win over Dunfermline last weekend.
The winger was making only his second appearance for Gers, having been criticised on his debut against Kilmarnock for playing Manuel Pascali onside for the goal which inflicted a first SPL defeat of the season on the club.
However, despite his furious response to news of the ban on Thursday, McCoist insists both he and the player were able to see the funny side of what has been a turbulent start to Aluko's Rangers career.
Smashing lad
He said: "We had a little bit of a laugh about it yesterday, which you probably won't believe.
"It was like 'Welcome to Rangers'. It's been an interesting couple of weeks for him.
"I actually thought he played well down at Kilmarnock but he received a bit of stick for not coming off a post at the goal. Then the Dunfermline incident.
"If he ever needed a reminder of the situation he finds himself in at our club, he's got it quickly.
"He's a lovely lad and, disappointed as he is at yesterday's judgement, he will bounce back from it. He's a smashing lad and he will come back absolutely fine."
McCoist hailed Aluko for making a positive impression in his two performances so far but is confident he will be able to cover for his absence at Hibernian on Saturday.
He added: "The wee fellow, to be fair to him, has probably been our brightest spark in the last game, if not the last two games.
"That's my biggest concern, that we are losing someone who has been very effective for us for the next two games.
"It's something we'll just have to counter and deal with. We've got one or two things we can do, one or two plans we can implement and that will be the case for the Hibs game."