Obertan feeling top of the Toon
Gabriel Obertan admits leaving Manchester United for Newcastle was the best career choice he could have made.
By Razwan Mirza
Last Updated: 10/12/11 12:37pm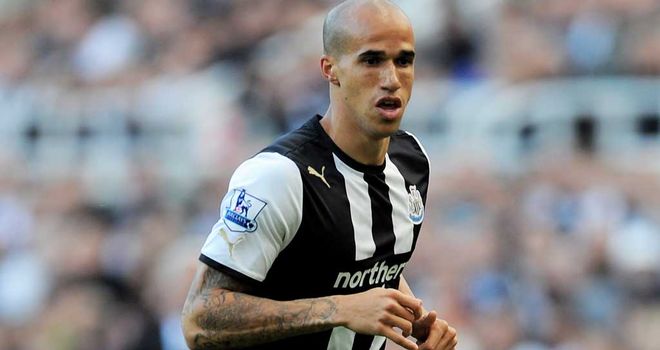 Gabriel Obertan admits leaving Manchester United for Newcastle was the best career choice he could have made.
The Frenchman is now an established first-team player at St James' Park after becoming a regular under manager Alan Pardew.
The Magpies are battling with the Premier League big boys at the top end of the table having lost just two games this season.
And the 22-year-old claims that leaving Old Trafford was the right thing to do after finding first-team opportunities limited during his two-year spell.
However, Obertan has nothing but praise for Sir Alex Ferguson, who he believes helped him shape his career.
He told The Independent: "Manchester is just all about winning. Small-sided games, boxes (a piggy-in-the-middle-style exercise), passing. You need to be first. You need to win. You need to win even when you play video games. Whatever we played it was all about competition. That's what I think is one of the main ingredients why they win.
"He (Ferguson) was great to me. I did not play much but being manager is quite difficult. You have to make choices and he had a great squad. He was the best I have been with so far. Sometimes a bit harsh. It's what is best for you. He is not thinking about hurting you. If it is the best for you he will be hard on you.
"Sometimes in training he can shout at you. You might think it's nothing, but to him that might be important. He wants to remind you he hasn't forgotten about you doing well. Whether you are (Ryan) Giggs or Obertan it's not a big difference to him. He just wants you to be the best."
The winger believes his career is catching up with his ambitions after joining the North East giants on a five-year contract during the summer transfer window.
Chance
"It was hard in a way because it is not easy to leave such a big club," Obertan said. "But I had to think about what was best for me and I had to look at options and Newcastle was a good chance for me. I wanted to stay in England. I had some other options abroad. It's not that I wasn't interested but I wanted to stay in England because I loved it here.
"I love the football and the culture is different. The way people see football is different. In France it is straight away loads of critics and 'Blah, blah, blah, he wasn't good enough'. When you see France playing in Paris and they draw a game it is like they lost. It's not normal. They always see the negative point first.
"In football it is different in England. When you play a game here you try to win. In France it is like 'We mustn't lose and after that we will see'. I prefer the English way.
"I have never experienced anything like this at Newcastle. So many people follow the club and the passion around it. It's unbelievable. All the people wearing the shirts. It is great in a way but sometimes quite hard and we have been lucky with the results so far. It is good - you feel really loved. But I think it may be difficult when we lose.
"I knew at Newcastle it wasn't going to be easy because it is a good group and a first-team place wasn't (automatically) given to me. The manager told me I had to work hard to keep my position and that is what I am doing. So far it has worked quite well. I didn't lose the joy of playing football (at Manchester United) but it was hard sometimes to focus, train and know you are not going to play at the weekend. It is hard when you are young and you just want to play anywhere. It is nice to feel this way again."