Saha blames money worries
Louis Saha has blamed a lack of strengthening for Everton's sluggish start to the Premier League season.
By Patrick Haond
Last Updated: 13/12/11 11:20am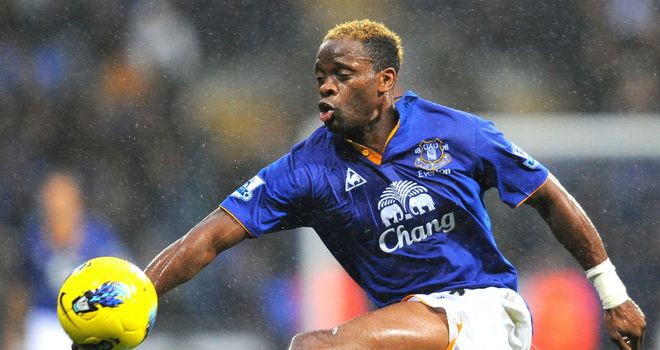 Louis Saha has blamed a lack of strengthening for Everton's sluggish start to the Premier League season.
The Toffees are 16th in England's top flight, four points above third-from-bottom Wigan following their weekend loss to Arsenal.
Manager David Moyes was quiet in the summer transfer market as the club tightened their purse strings, landing Royston Drenthe on loan after Mikel Arteta left for the Gunners.
Everton picked up James McFadden and Marcus Hahnemann on free transfers, Denis Stracqualursi and Eric Dier joined on loan while Jermaine Beckford, Yakubu and James Vaughan were all sold.
Saha has labelled the club's decision to sell Arteta and replace him with Drenthe from Real Madrid as 'disturbing'.
Difficult
"We had a very difficult start to the season," he told France Football.
"Financial issues didn't allow us to have a real strengthening campaign. Indirectly, it has an impact.
"When a player like Drenthe came at the last moment and Arteta left, it is disturbing. We had to find our bearings again."
It has been an up and down season on the pitch for Saha as he irked Moyes after storming out of Goodison Park having been omitted from their matchday squad to face Wigan in September.
The former Manchester United striker admits there was tension between the two, although the situation has been resolved following talks.
"My relationship with the coach? It's logical there are small tensions," he continued.
"Being banned from the group? Maybe he wanted to provoke me.
"The most important thing is we had the explanations I needed. Now I am playing again."
Frustration
Saha has also expressed his regret at not playing more for France during his career with injuries severely hindering his availability.
The 33-year-old is now able to manage his body enabling him to play more, although he is now unlikely to add to the 19 caps he has for Les Bleus.
He continued: "Do I have regrets toward French team? Yes, as I could not fully express due to injuries.
"There is frustration with the 2006 World Cup and Euro 2004. Now there is a new generation. But as long as I will remain a player, I will not give up hope.
"My knees? I have succeeded in finding a routine, even if football remains a contact sport.
"I've finally learned to manage myself. Being 33 I can't achieve the same things I did before. In the past, I always played instinctively.
"Now there are more managed runs, fewer useless gestures. I am more focused on efficiency."