Fletcher to take extended break
Manchester United have confirmed midfielder Darren Fletcher is to take an extended break from football due to health reasons.
Last Updated: 13/12/11 5:03pm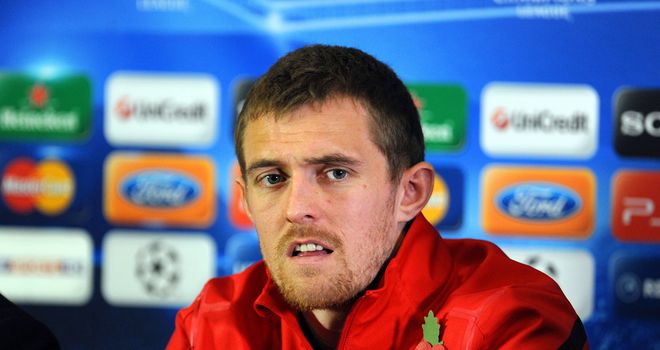 Manchester United have confirmed midfielder Darren Fletcher is to take an extended break from football due to health reasons.
The Scotland captain missed two months towards the end of last season due to illness and also sat out United's pre-season tour to North America to work on his fitness.
He returned to action for his national team in September's Euro 2012 qualifiers and has gone on to make 10 appearances for the Red Devils this season.
However, Fletcher has been suffering from a chronic inflammatory bowel condition and the 27-year-old is to take a break from the game.
Loyalty
A United statement read: "On behalf of Darren Fletcher, Manchester United wishes to announce that he is taking an extended break from football for health reasons.
"Over the past year he has had several absence periods which we have attributed to a viral illness in order to respect his right to medical confidentiality. Darren has, in fact, been suffering from ulcerative colitis (a chronic inflammatory bowel condition) for some time preceding this.
"Whilst he was able to maintain remission of symptoms for a considerable period this has proved more difficult recently and Darren's continued desire to play and his loyalty to both his club and country has probably compromised the chances of optimising his own health and fitness.
"He has therefore accepted medical advice to take an extended break from the demands of training and playing in order to afford the best chance possible of achieving full remission once again.
"We request that his privacy is respected and hope that the removal of the additional stress associated with speculation regarding his health will also aid his recovery."
Absence
Fletcher, who has made over 300 appearances during his United career, has not featured in the last five matches, although he was on the bench for the away games against Aston Villa and Basel.
His absence will further weaken Sir Alex Ferguson's midfield options, with Anderson out until February and Tom Cleverley not expected to return for another couple of weeks.
Teenage England international Phil Jones has been operating in midfield of late, but Fletcher's situation may force Ferguson to dip into the transfer market in January.
Ferguson has previously suggested January is not the best time to make signings, but has also been linked with Bolton defender Gary Cahill after captain Nemanja Vidic was ruled out for the rest of the season.
Team-mate Rio Ferdinand said on Twitter: "We are going to miss 2 big players in Fletcher + Vidic, I hope they both come back fitter + stronger than ever."