Jags eyeing Drenthe spark
Phil Jagielka hopes Royston Drenthe will return soon and play a 'big part' in firing Everton up the table in the coming weeks.
Last Updated: 15/12/11 5:10pm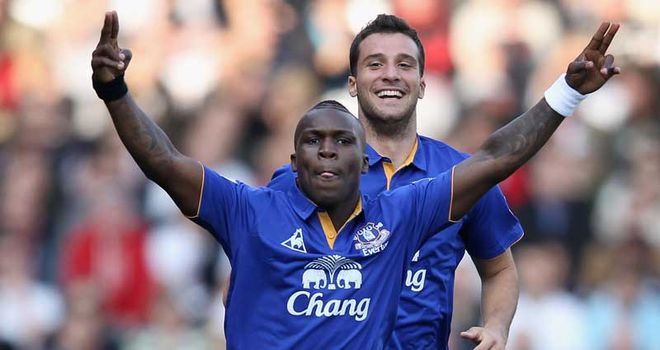 Phil Jagielka hopes Royston Drenthe will return soon and play a 'big part' in firing Everton up the table.
The Dutchman, who arrived on loan from Real Madrid this summer, has provided an important attacking thrust to a midfield which was crying out for creativity in the wake of Mikel Arteta's departure to Arsenal.
He scored his second goal at Fulham in late October but was then sent off at home to Chelsea and he has missed the last three matches through injury.
Despite admitting his unpredictability can be a 'pain', Jagielka believes Drenthe will be a big asset to the Toffees when he returns to action.
The England international said: "As much as it is a pain defensively, offensively he adds a massive threat with his ability, his pace and his shooting.
"It's hard to know from a defensive point of view where he is going to pop up but we need that unpredictability because sometimes it's been a bit too easy to mark us.
Flair
"He gives us that bit of flair and spark so hopefully he can play a big part and score a couple or set up a couple over the next couple of weeks."
Everton host Norwich on Saturday as they look to improve on their poor record of just seven points from as many games this season at Goodison Park.
The Canaries have already had some success on Merseyside, holding Liverpool to a draw at Anfield, and as goals are at a premium for 12th-placed Everton, Jagielka admits the first breakthrough could be the all-important one.
"Hopefully we can get the first goal and that will mean they come out and press us to try to get a goal themselves," he told evertonTV.
"Getting the first goal changes the complexion of the game; we have found it hard to get the first goal or come from behind because teams have just sat in.
Bit extra
"I'm not sure (goalkeeper) Tim Howard is having that much work but unfortunately the opposition either have that little bit extra quality or are a bit more fortunate than us and seem to score with only one or two shots on goal.
"As a unit I think we are doing quite well but it would be nice to have a few more 'nils' next to our name.
"It has been a tough part of the season but we play a lot of games now over the next month so hopefully we can pick up a few points playing two games a week and climb the table."
Jagielka is continuing to play while managing a toe injury which has dogged him for over six weeks now.
He added: "The toe is fine. I can't wear my normal size boots in training and I still have to have an injection before the game but I don't feel any pain so it is not an issue.
"It feels better but probably not as good as it should be."