Begovic has no Europa fear
Stoke's Asmir Begovic dismissed suggestions their chances of success in the Europe League were damaged by defeat by Besiktas.
Last Updated: 15/12/11 5:05pm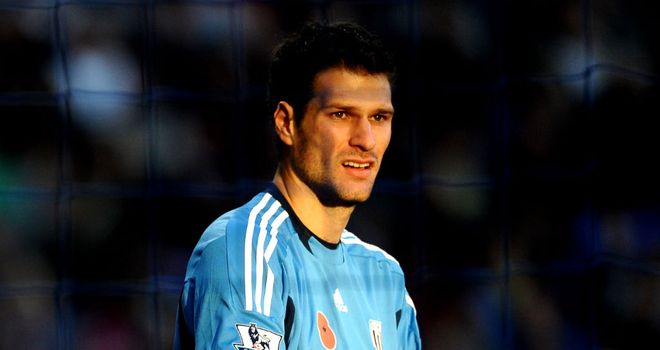 Stoke goalkeeper Asmir Begovic has quelled suggestions their chances of success in the Europa League were damaged by defeat by Besiktas.
The Premier League side were on a nine-match unbeaten run in Europe, however, that sequence snapped as they went down 3-1 in Istanbul on Wednesday night.
Tony Pulis' men had been on course to finish top of Group E but that loss means they have ended in second place.
This setback means they could now potentially face a difficult draw in the last 32 of the competition, but Begovic insists at this stage of the Europa League, there are no easy games.
Tough
"Once you get to the last 32, if you finish top or second, you're going to get tough opposition, so we'll see who we get," he said.
"It's disappointing obviously not to finish top, it would have been a great achievement, but our main goal was to qualify and we achieved that."
The Bosnia international began the season as the Potters' first choice in the Premier League but some errors saw him replaced by Thomas Sorensen last month.
However, Begovic has maintained his position in the team for European ties and impressed against the Turkish outfit and he has now set his sights on reclaiming his place in the league side.
Disappointing
"It was pleasing," he added. "It's one of those things that when the team loses it's disappointing all around.
"It was good to play again, I enjoy the atmosphere and the occasion so we'll see what happens next.
"I enjoy every time I play and that's the main thing. I love playing and I'll keep working hard to get back in the team."