Pennant - No Pulis rift
Stoke winger Jermaine Pennant has played down reports of a rift with boss Tony Pulis.
Last Updated: 15/12/11 10:43pm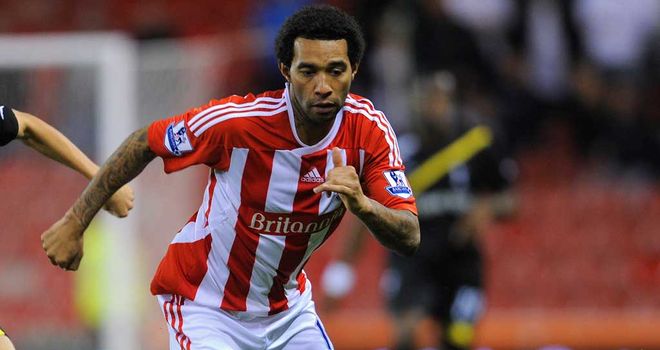 Stoke winger Jermaine Pennant has played down reports of a rift with boss Tony Pulis.
The former Liverpool and Arsenal man was left out of the squad entirely for the Potters' last two Premier League games against Everton and Tottenham, with academy product Ryan Shotton taking his place in the side.
Pennant was included in the 15-strong squad Pulis took to Istanbul for Wednesday's Europa League clash against Besiktas but found himself on the bench with third-choice keeper Carlo Nash and youngsters Michael Clarkson and Lucas Dawson.
An injury to Andy Wilkinson in the first half forced Pulis' hand and he sent Pennant on, and after the 3-1 defeat the 28-year-old, who has been dogged by off-the-field problems throughout his nomadic career, insisted there was nothing untoward going on.
The manager has been tight-lipped on the reasons for Pennant's absence, but the player declared his intention to try to force his way back into a side that have won their last three league games and denied he is unhappy at the club.
"The manager made 11 changes but I got on, that's good enough for me," he said.
"He is keeping with his winning team. If the record isn't broken then you don't change it. We have won the last two (league) games so he is keeping that team. He's the manager.
"If I keep working hard and the team keeps winning, and I'm not playing, then I'm as happy playing as not. It's not all about individuals, it is about the team.
"I'm happy. There are no bad feelings so everything is fine."
Raucous
Pennant and his team-mates suffered their first European defeat of the season last night at a raucous Inonu Stadium and surrendered top spot in Group E to Besiktas.
It was a disappointing end to the group stages but their place in the last 32 was already assured, and Pennant, who was pelted by objects thrown from the crowd as he attempted to take a second-half corner, is now hoping for a favourable draw.
He said: "The main thing was to get through. Also, some of the players hadn't played in Europe before so it was good for them to come and enjoy it and soak up the atmosphere. I think we did that!
"The result took a bit of gloss off it but we are still through. Hopefully we'll get a nice draw now."
Pennant will hope he has done enough to force his way at least back into the squad for Saturday's Premier League clash with Wolves at Molineux as Stoke look to cement their place in the top eight.
"It's another big game," he added. "I am sure the players who were rested back home will be preparing well for it."