Cahill reveals Everton loyalty
Tim Cahill admits that staying at Everton has been difficult, but says he loves the club too much to leave.
Last Updated: 16/12/11 10:07am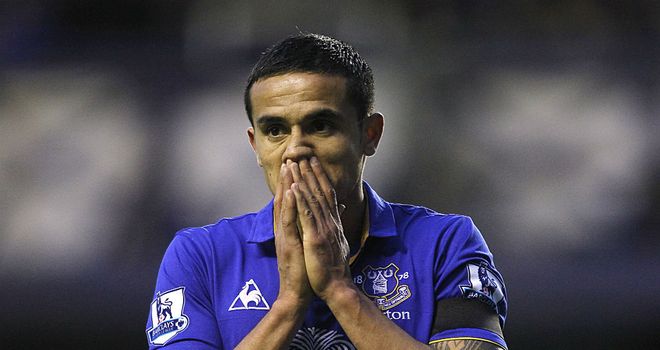 Tim Cahill admits that staying at Everton has been difficult, but says he loves the club too much to leave.
The 32-year-old has been at Goodison Park since 2004 and has often been linked with a move to a number of top European clubs.
David Moyes' side have endured a difficult start to the Premier League season and are just four points above the relegation zone.
After a number of top-five finishes within the last decade, they have recently struggled to cope with the financial strength of other Premier League high-flyers.
Cahill has been loyal to the club, but told the Daily Mirror that he has been making tough decisions during his time with the Toffees.
Easier to leave
He said: "If you stay at a club, it's harder. It's easier to leave, really - it's easier to have a fresh challenge, because you join a new team, you have a clean slate, you nick a few goals and you have a fresh impetus.
"But I've found it's harder to stay because every year gets harder, expectations get higher, fans may get complacent about players and what they want them to achieve. They want a difference, they want a change.
"I've always said I will leave only when this football club is done with me. I think loyalty goes a long way, and I've always wanted to repay the faith this club had in me, when I came from nothing.
"As for major decisions in life there have been plenty of opportunities, but I have never conducted it in the media. I respect this club too much that create things that might be there, might not be there."
Cahill has also leapt to the defence of chairman Bill Kenwright who has come in for criticism from the club's supporters due to his lack of spending.
But fans' criticism may have slightly subsided with the news that Landon Donovan is set to return to Everton after agreeing a new loan deal from LA Galaxy.
There were protests against Kenwright after Mikel Arteta was sold to Arsenal while funds have rarely been made available to Moyes.
But - speaking at the FIFA 12 Pro Player Challenge - Cahill revealed that he has some sympathy with his chairman.
Catch-22
He added: "It's a Catch-22 with the ownership here. Look at other situations, where they have sold the club to millionaires and it hasn't worked out. The chairman has said he wants to sell, but he wants to sell to the right people.
"These things take time, and probably a bit like all of us here, we probably love the club too much and it's so hard to let go.
"Whether that's my failing, the chairman's failing, the gaffer's failing... but when you have invested so much time and effort into something you love, it can work against you.
"At the moment, it's working against the chairman. But the main thing is, when he does sell it, the fans can be happy enough, because it will be with the right due diligence and in the knowledge he will be selling it to someone who truly cares about it. "