Fresh setback for Dyer
Neil Warnock has confirmed Kieron Dyer is to undergo an operation on his foot and is not expected to play for QPR again this season.
Last Updated: 16/12/11 2:20pm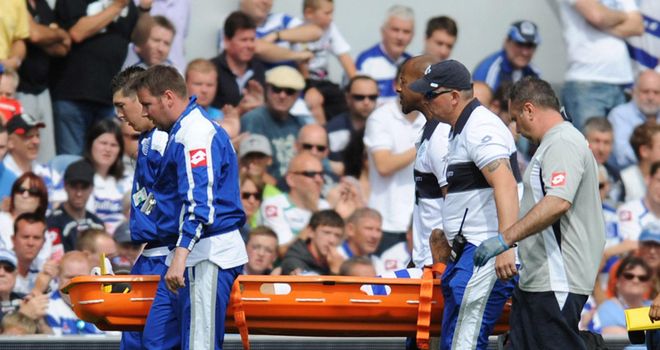 Neil Warnock has confirmed Kieron Dyer is to undergo an operation on his foot and the midfielder is not expected to play for Queens Park Rangers again this season.
Dyer has been sidelined since he suffered a foot injury just five minutes into his QPR debut against Bolton Wanderers on the opening day of the campaign.
He was expected to make his comeback after the Christmas period, but the 32-year-old hurt his foot again playing for the reserves earlier this week.
Warnock is likely to leave Dyer out of his 25-man squad when he re-submits it to the Premier League after the next transfer window shuts, meaning the former England international may never play for Rangers again.
Devastating
"This is a devastating blow for Kieron," Warnock told the club's official website.
"I have never met a more determined pro in my career, and he really doesn't deserve this.
"The specialist said he thought Kieron could return before Christmas without the need for an operation and is disappointed that this is not the case, and he has no alternative now but to operate.
"I have absolutely no doubt that he will recover after the operation. We are going to support him as best we can because he has got such a contribution to make, both on and off the field.
"And even though he has not featured for us, he has made a vital contribution at the training ground and has been very important to have around the place."
Warnock added: "We are aware that Kieron's contract can be terminated in January.
"But, having spoke to Tony Fernandes and the rest of the shareholders, we want to support Kieron in this time, even though it may mean he is not in our 25 for the rest of the season.
"I feel he has a lot to offer the club. We will be involving him in many aspects of the club while he rehabilitates."