Wenger admits Santos gamble
Arsenal boss Arsene Wenger has revealed he selected Andre Santos at Olympiakos because he wanted to 'respect the competition'.
Last Updated: 16/12/11 4:01pm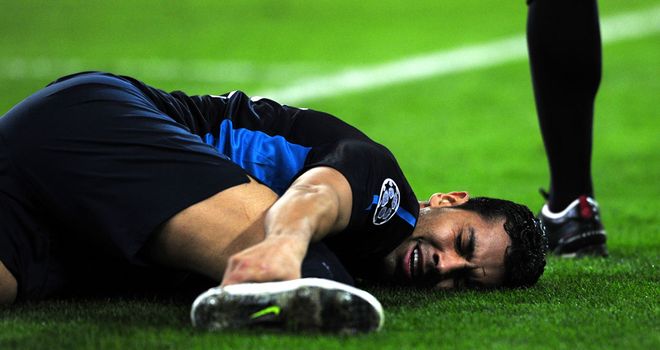 Arsenal manager Arsene Wenger has revealed he selected defender Andre Santos for their Champions League tie at Olympiakos because he wanted to 'respect the competition'.
The Brazilian suffered ankle ligament damage in the Group F tie in Athens last week and is now set to miss the next three months.
But with the Gunners already through as group winners it was a game that mattered little and they travelled to Greece without a number of key players, including prolific striker Robin van Persie.
A number of first-choice stars still did play, however, with Santos lining up alongside the likes of Thomas Vermaelen, Andrey Arshavin and Alex Oxlade-Chamberlain.
Wenger's gamble backfired, though, with his side not only losing the game 3-1 but suffering injuries to both Santos and goalkeeper Lukasz Fabianski.
The Frenchman admits it was a risk selecting first-teamers for a match that mattered little to the club but insists he wanted to respect the integrity of the competition as it was still an important match for the other teams in the group.
Gamble
"I took a gamble because I did not want to be accused of just throwing the game away and I felt that therefore you needed a solid defence," he said.
"I wanted to be fair to the competition.
"Analysing him [Santos] he came [into the squad] later and played less games than the others, and that's why I played him. But I had a long hesitation before I picked him, believe me.
"I felt he was a bit tired in the game before, and he had problems finishing the game. The way it happened to him it could have happened to anyone. It was not a kick, there was no contact, he was just on his own. He ruptured his ligament.
"It is very disappointing because it is first of all sad for the player and sad for the club. It hits us in a position where we of course already have many injuries and where he improved from game to game.
"The length of the injury is very sad as well because he is three months out. The only good news is that the surgery went well and so he should recover quickly."