Cavani out to silence Blues
Frontman Edison Cavani has fired a warning to Chelsea, insisting Napoli will beat them like they did Manchester City.
Last Updated: 17/12/11 1:08pm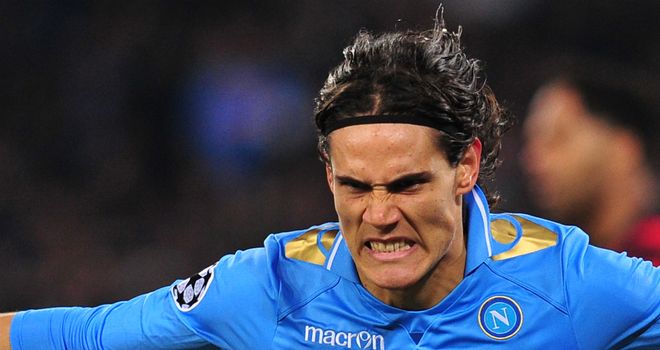 Napoli frontman Edison Cavani has fired a warning to UEFA Champions League opponents Chelsea, insisting they will beat them like they did Manchester City.
The Blues were handed a tough draw on Friday when they were paired with the Serie A side in the round of 16, which is held over two legs.
The Partenopei wrecked City's Champions League dream in the group stage, drawing in Manchester before downing them 2-1 at the Stadio San Paolo.
And highly-rated striker Cavani, who scored a deadly double at home to Roberto Mancini's men to seal Napoli's win, is confident they can do the same to the Londoners.
"I am always optimistic. If we have beaten Manchester City, we are also able to win against Chelsea," he told the Daily Star.
"This tie could be spectacular for the people. We are very motivated.
Ambitious
"I am not unhappy with the draw. I am ambitious and want to win by defeating the best rival and this is a big chance.
"Them having the second leg at home does not worry us. At City's stadium we obtained a point, but the key will be in San Paolo.
"With our fans in Napoli we have nearly a goal advantage. That will be a big pressure to Chelsea.
"If we finish the match without conceding a goal our chances increase to go to the following round because I am sure Napoli can score at Stamford Bridge."