Ramsey - The future's bright
Aaron Ramsey feels Arsenal's young midfield can only grow stronger as he prepares to tackle Premier League leaders Manchester City
Last Updated: 18/12/11 12:18pm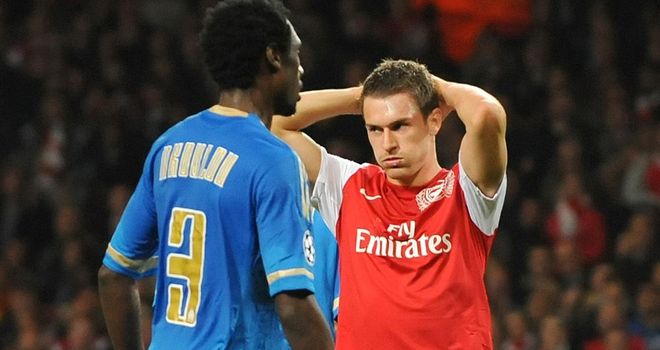 Aaron Ramsey feels Arsenal's young midfield can only grow stronger as he prepares to tackle Premier League leaders Manchester City
The Wales captain may not turn 21 until Boxing Day, but he will be in the thick of the action again on Sunday when the Gunners head to the Etihad Stadium.
England teenager Jack Wilshere is expected to return from an ankle problem in early 2012, giving manager Arsene Wenger more youth to call upon with the likes of Emmanuel Frimpong and Francis Coquelin both also impressing this season.
Ramsey feels such talent can only be positive for the club's long-term future.
"There's plenty of young talent there and we have to bond even more and gel as a team throughout the years. Hopefully we'll make it successful for many years," Ramsey told Arsenal Player.
"It's important that you have that core, that you've been together for a few years and you understand each other.
"It'll only make us stronger because you realise what to do on the pitch."
Coquelin focus
Coquelin has eight first-team appearances under his belt already this season, including starts against Manchester United and Tottenham.
The 20-year-old had a productive loan spell back in France last season, and it has been suggested he could head to Lille in January.
For now, though, the combative midfielder is focused on making the most of any more chances with the Gunners.
He said in L'Equipe. "In my heart, I know I can do something in this Arsenal team, but to be the best, I need regular matches.
"For now, the transfer window is not open and I am focused on Arsenal, but when there really is interest, we'll see what happens."