Tevez row shocked Mancini
Roberto Mancini thinks Carlos Tevez has been badly advised after admitting that the breakdown in their relationship came as a surprise.
Last Updated: 21/12/11 10:33am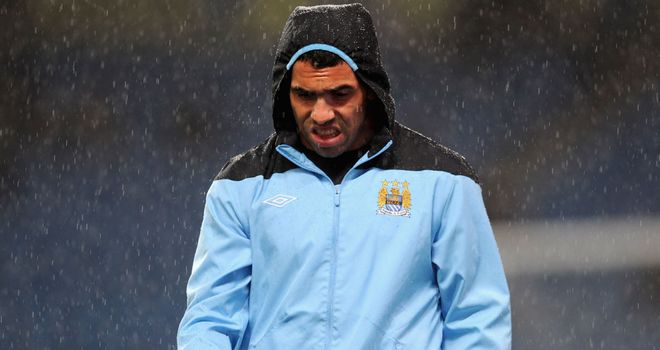 Roberto Mancini has again stated that he thinks Carlos Tevez has been badly advised after admitting that the breakdown in his relationship with the Manchester City striker came as a surprise.
City officials will meet AC Milan counterparts on Thursday in an attempt to thrash out a deal that would allow Tevez to leave for Italy during next month's transfer window.
The obvious problem is that Milan want to negotiate an initial loan period, which would then turn into a permanent transfer in the summer.
City are not willing to countenance this and meanwhile, the player remains in Argentina, where he has repeatedly been pictured playing golf.
Mancini maintains that he used to get on well with Tevez, who was City's star performer last season.
"We were better with Carlos in the squad because he is a fantastic striker," said Mancini, ahead of Wednesday night's Premier League encounter with Stoke.
"I had a good relationship with him and he was always well behaved.
"I don't know what happened but it was really strange and frustrating because we were better, 100 per cent."
Asked directly whether Tevez had received some bad advice, Mancini replied: "Yes."
Playing the priority
Mancini has also questioned Wayne Bridge's motives for staying at City, hinting that the defender was more interested in money than the game.
An England international two years ago, Bridge knew last year he had no future with the Blues and spent the last half of the season on loan at West Ham.
However, collecting a weekly salary believed to be around £90,000, the former Chelsea man has found no-one willing to match those terms, even though there are plenty, including Celtic according to Mancini, who would like to sign him.
"I don't understand why there are some players that have a chance to go and play, maybe not in the Premier League but in the Championship, and don't," said Mancini.
"I don't know why you would want to stay at a club where you can't play.
"When we are young and start to play football we don't play for money, we play because we like football. Every player should have this target in mind - to play football.
"Wayne is a good guy, but he had two or three chances in the summer, including Celtic, who are an important team.
"He trains with us sometimes and sometimes with the young players but I hope, for him, he leaves in January because it's difficult for a player to stay training every day."