Olsson happy at West Brom
West Brom defender Jonas Olsson has confirmed there have been talks regarding a new contract, but is in no rush to decide his future.
Last Updated: 21/12/11 9:13am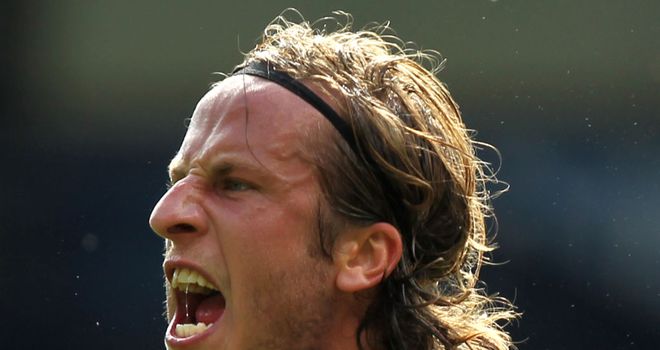 West Bromwich Albion defender Jonas Olsson has confirmed there have been talks regarding a new contract, but is in no rush to make a decision on his future.
Olsson has 18 months remaining on his present deal at The Hawthorns and was quoted last week as saying he would not decide on an extension until after Euro 2012 as he was eyeing up a move to a bigger club.
The Swede has sought to clarify those reports regarding his commitment to the club, with the 28-year-old stressing he is happy at West Brom.
"I have been here for four years and I have signed two contracts already and I have been speaking with the club for a while about extending," Olsson told the club's official website.
Ongoing process
"I can definitely see myself extending contracts but, like always when you're negotiating contracts, there are bits and pieces that need to come together and it's an ongoing process.
"Because I have more than a year-and-a-half left on my contract there is no rush. That's the way I feel and it's the way the club feel.
"It's not like we're speaking every day about it but we've had some meetings and we'll take it from there."
Olsson added: "I don't really like it when people take an article from another language and try to translate it, especially taking bits and pieces out of context.
"I was asked about my future and I spoke my mind. I said I am very happy here, I've had four good years here and I am very grateful and happy for where I am.
"But I think it's important that in this business or any business you be professional. Being professional for me is about having dreams and ambitions and I think that's important wherever you are.
"You can be happy and grateful for where you are but you cannot be satisfied. The day that you are satisfied is the day when it's time to hang up your boots."
He continued: "I have dreams and ambitions that I want to fulfil with this club but I am Swedish, I won't be in this country forever and I turn 29 next year.
"Maybe not now, but in the near future I have to think about making the process of moving from being a footballer to whatever I want to do next as easy as possible.
"That's also something to think about when you're talking about extending."