Magath laments Kyrgiakos signing
Wolfsburg coach Felix Magath is disappointed with defender Sotirios Kyrgiakos' performances so far this season.
By Thomas Zocher
Last Updated: 21/12/11 5:36pm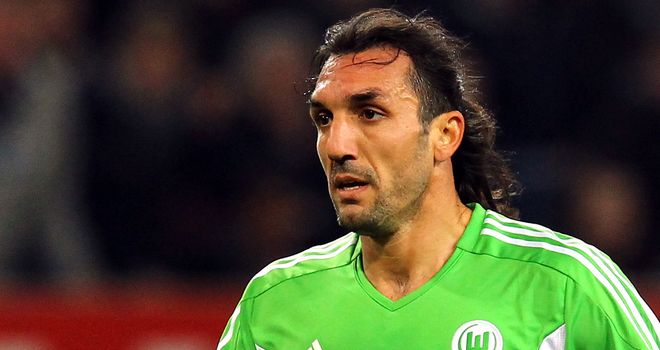 Wolfsburg coach Felix Magath has expressed his disappointment at the poor performances of defender Sotirios Kyrgiakos so far this season.
The Greek centre-back joined the German club on a free transfer in the summer after his contract with Liverpool came to an end, and was a regular in the first team until October when he was relegated to the reserves.
The 32-year-old has fallen out with Magath and is now set to leave the Volkswagen-Arena in January, but the German trainer is not too worried about him leaving a gap in the team.
"I had signed Sotirios Kyrgiakos with great hope," he told Wolfsburger Allgemeine Zeitung.
"He never lived up to expectations simply because he was never ready to fulfil the role of a leader in the group.
"I had thought that he would be looking forward to do so."
More points
Wolfsburg will head into the winter break placed 14th in the Bundesliga table with 17 points from 16 matches, just two points above the bottom three.
Magath is hopeful of better display from his players after the break and said: "We want to have more points in the second half of the season.
"We are going for a better squad with better performances. Everyone is making mistakes. I have also made mistakes.
"The squad suffers from the fact that there has been no hierarchy in the team. There is no steadiness in the group (of players)."