McCoist - No complacency
Rangers manager Ally McCoist is wary of the threat posed by St Mirren ahead of Saturday's trip to Paisley.
Last Updated: 23/12/11 6:08pm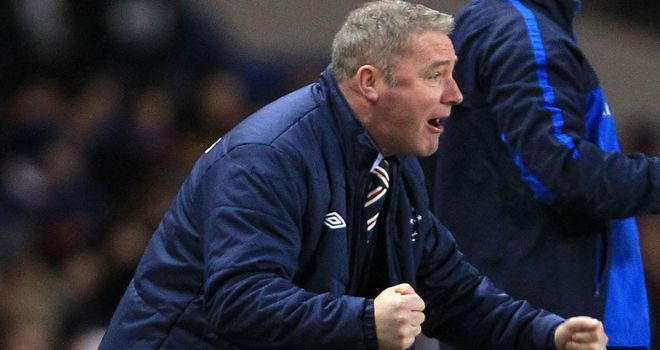 Rangers manager Ally McCoist is wary of the threat posed by St Mirren ahead of Saturday's trip to Paisley.
Memories of the Buddies' visit to Ibrox in October are still raw for McCoist and his players as the Scottish champions, who had been aiming for a 10th consecutive SPL win, were held to a 1-1 draw when former Light Blues striker Steven Thompson grabbed an injury-time leveller.
While McCoist's side hope for the three points that will strengthen their grasp on pole position in the SPL ahead of next week's Old Firm derby, he is by no means taking a win for granted.
The Rangers boss said: "We saw enough in the game at Ibrox to determine that it's going to be a really difficult game. I thought they knocked the ball about really well against us at Ibrox.
"As disappointing as we were - when we took the lead we couldn't get the second goal - from their point of view they scored a very good equaliser.
"It was a howler defensively from us, but from their point of view it was a good goal. In the cold light of day, they probably deserved a point on that day's performance.
"That would indicate to me and the players that it's going to be nothing other than a really tough fixture, but it's a good place to go.
"It's a new stadium and the surface has been good and always seems to be playable and in good condition.
"It's an opportunity for us to go away again and hopefully continue our good run away from home."
Rangers face one of their biggest games of the season when they take on Celtic at Parkhead on Wednesday night, when they will be seeking a repeat of their 4-2 win over the Hoops earlier in the campaign.
But McCoist is well aware of the dangers of dropping points against Saints by looking too far ahead, adding: "I'm not even looking to the Old Firm game until 3pm on Christmas Eve.
"The Old Firm game is massive, of course it is, and I would rather go into the Old Firm game with three more points, that's for sure. We will have to earn them again."
Aluko praise
McCoist expects recent recruit Sone Aluko to have a big part to play in both games, with the winger back in contention after serving a two-match ban for diving after winning a penalty against Dunfermline in only his second game for the club.
His debut was also marred when he was blamed for the goal that allowed Kilmarnock to inflict Rangers' first league defeat of the season, but despite the controversy, McCoist has been impressed.
He said: "The irony is not lost on me that we are talking about the wee fellow after only two games.
"I think that's to his credit with the impact he has made at Kilmarnock and at home to Dunfermline. He will certainly come back into our plans.
"He looks as though he is loving life here, he is enjoying his training and getting on well with the lads. He will certainly be involved in the fixtures coming up.
"If in any way, shape or form he didn't really like handling the limelight side of things, he's obviously at the wrong club. His first two games would indicate this is life at Rangers.
"I thought he played well at Kilmarnock and then got slaughtered for not coming off the line for the goal and then the incident against Dunfermline has been well broadcast.
"That's just the territory that he's now living in and working in, but he will handle it fine. In fact, he will probably thrive on it. He's a smashing boy."