Cole keeping options open
Joe Cole has not ruled out a return to Liverpool but is enjoying his time on loan at Lille and feels it would be 'logical' to stay in France.
Last Updated: 24/12/11 12:35pm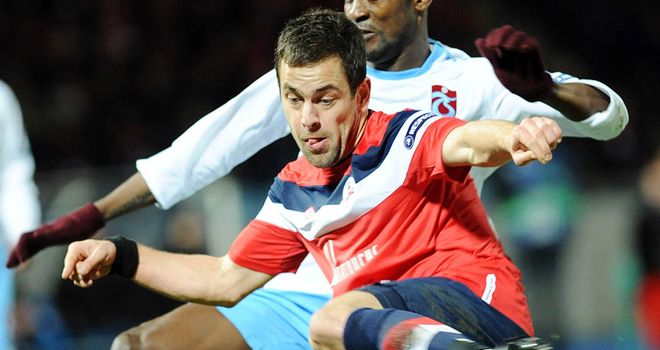 Joe Cole has not ruled out a return to Liverpool but is enjoying his time on loan at Lille and feels it would be 'logical' for him to stay with the French club.
Cole joined the Ligue 1 champions on a season-long loan deal over the summer and has caught the eye with a series of impressive performances both in their domestic games and the UEFA Champions League.
Lille boss Rudi Garcia has expressed his desire to keep Cole beyond the summer, although Kenny Dalglish has not yet heard anything about the possibility of turning the move into a permanent arrangement.
Cole is not sure what the future holds but is open to the idea of going back to Anfield, where he would have the chance to prove his worth after a frustrating 2010/11 campaign.
However, he has indicated that his preference would be to remain at Lille as he feels he is finally getting back to his best form.
Asked about a possible Liverpool return, the midfielder told Sky Sports News: "Who knows what will happen? I might get the chance to change that round.
"At the moment I am happy here. I am playing and I am playing well, so it is all going good.
"If it continues going like this, it would be the logical option (to stay at Lille).
"The football's gone quite well, considering I didn't play for so long at Liverpool, but I've had a good start and I'm only going to improve as I get closer to my best level.
"I am edging closer to what I was at my peak at Chelsea."
England hope
If he can keep performing well until the end of the season Cole may put himself in contention for a place in England's Euro 2012 squad.
He is keen to be involved but will not build his hopes up too high after falling down Fabio Capello's pecking order over the past 18 months.
"It is at the back of my mind, but you can't drive yourself mad because it is out of my hands," said Cole.
"I am a proud Englishman and I love playing for my country. I have had some great times in an England shirt and I don't want to not ever play for England.
"I definitely have a lot more to offer."
Cole continues to follow the Premier League from afar and has given his backing to Andre Villas-Boas to rise above the pressure and succeed at his former club Chelsea.
"It is a difficult time for the club because things have to change, and he is definitely the man to take them through it in my opinion," said Cole.
"It would be rash if anything happened to him because you are just restarting the engine again."