Fergie eyeing pivotal Carrick
Alex Ferguson has challenged Michael Carrick to step up and become the pivotal player in Manchester United's team.
Last Updated: 26/12/11 1:09pm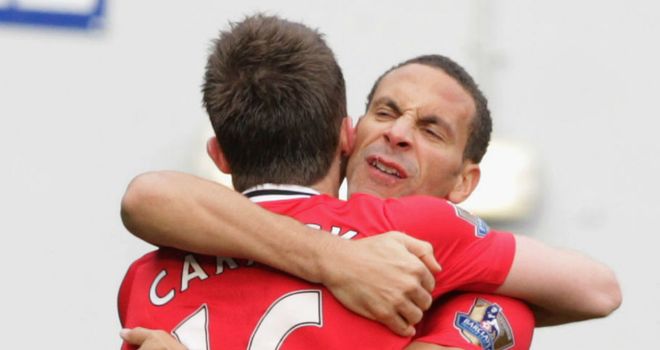 Manchester United boss Sir Alex Ferguson has challenged Michael Carrick to step up and become the pivotal player in the champions' team.
The 30-year-old scored his first goal for almost two years when notching in the 2-0 win over QPR earlier this month.
Ferguson has been impressed with Carrick's form of late and wants the midfielder to push on and emulate the recently retired Paul Scholes and become the main man in the team.
The United boss said: "I think it's time Michael became the pivotal player of our team.
"We've always known he's got that in him.
Laid-back character
"He's a laid-back character - quiet, unassuming - but in different periods during his time here he's shown his quality.
"Now is the time for him to start a long period of dominating the centre of midfield like he has in the last few weeks.
"He's been instrumental in what's happening to the team at the moment.
"He's grasped the nettle. He's maybe seen the departure of Paul Scholes as his opportunity to be the main man."
Ferguson believes Carrick has been helped with the presence of powerhouse Phil Jones - who has been used at times in defence - alongside him in midfield recently.
Energy
He added: "I think Michael's been helped by the energy and determination of Phil Jones beside him.
"The boy's been quite amazing. But Carrick's performances have been outstanding. I think Michael and Phil help each other."
Carrick's goal at Loftus Road was his first in 70 games which Ferguson admitted he was surprised about.
"I was quite surprised when I heard that statistic. But he is quick, you know - you just don't see that often because we ask him to control midfield rather than venture too far."
Along with Carrick, Ferguson also believes Rio Ferdinand is playing at the top of his game in defence.
He added: "We have two experienced players playing right at their peak now. Rio's form in the last few weeks has been absolutely fantastic and Michael's been one of our best players."