Jackett confident of survival
Kenny Jackett expects Millwall to stay up as Michael Appleton bemoaned the lack of a 'killer touch' after Portsmouth's 1-0 defeat.
Last Updated: 26/12/11 4:27pm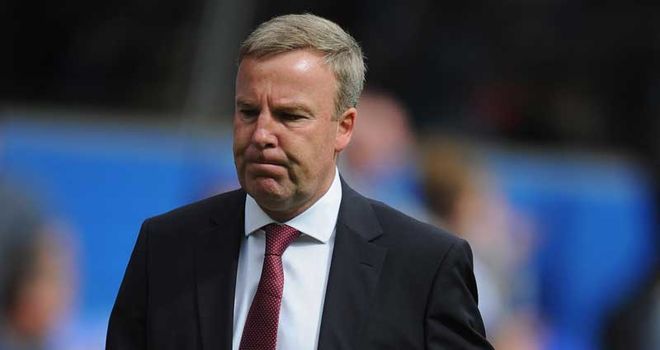 Kenny Jackett expects Millwall to survive in the Championship this season as Michael Appleton bemoaned the lack of a 'killer touch' after Portsmouth's 1-0 defeat at The Den.
A late winner from Dany N'Guessan lifted Millwall on to 26 points and halfway towards Jackett's target of 52 points he feels will be enough to secure safety.
Jackett was pleased with the contribution of N'Guessan and believes the summer signing from Leicester City is improving.
"We've got to the halfway stage and have 26 points. Our options going forward need to improve, we need to be more creative," said Jackett.
Massive win
"It's a massive win for us, we're looking to follow this win up in the derby against Palace.
"I'm very pleased for Dany, it's his first one here and I hope the first of many.
"He's a strong lad Dany, he's played most of his career wide but he's got the power and his ball retention is improving. I thought he showed flashes of being powerful enough to do it, and goals are the currency for a striker.
"I saw him at Lincoln and he was floating on the edge at Leicester. We took him on a free and hopefully now he can develop with us.
"I'm very pleased with the win, there have been plenty of times where we've had pressure but haven't found the goals. It happened in the last two away games. We've kept it tight then they've found a big last half an hour."
Pompey skipper Liam Lawrence headed the visitors' best chance over in the first half while Stephen Henderson denied Liam Feeney and Brian Howard either side of the break.
But he was unable to prevent N'Guessan poking home after Liam Trotter had knocked down Feeney's cross with Portsmouth's appeals for a foul on Hayden Mullins falling on deaf ears, much to manager Appleton's frustration.
Disappointed
He said: "We're a bit disappointed, we thought it should've been a foul but they can go either way.
"That was the difference in the game, they were a little bit cuter on the ugly side of the game.
"I've looked at it again and it looks a genuine foul but from my point of view it's swings and roundabouts - we'll get them later in the season. We would've been delighted if [Dave] Kitson had done it
"We should've stopped the cross. We're disappointed because we felt really comfortable in the game.
"The boys moved the ball well, we just lacked a cutting edge around the box.
"We just lack a killer touch at the minute. There's a few of the boys desperate to get a goal. That final pass was missing but it'll come.
"We'll go to Leicester on a better surface against a good side. If we continue that form we'll be fine.
"You've got to be patient with them and keep believing in the players. You've got to learn from defeats and take it on the chin."