Valencia - Setbacks inspired us
Antonio Valencia has revealed the hurt of crashing out of the Champions League and Carling Cup has driven Man Utd on in the Prem.
Last Updated: 29/12/11 8:44am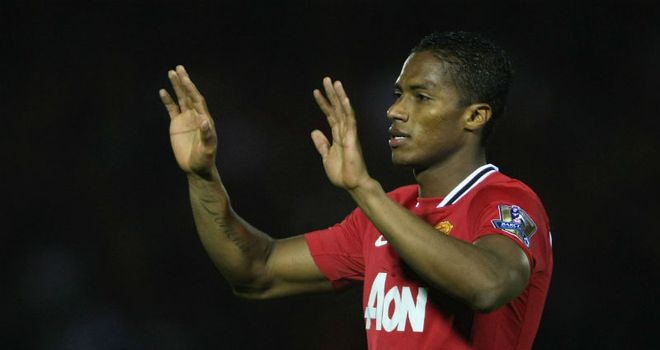 Antonio Valencia has revealed the hurt of crashing out of the UEFA Champions League and Carling Cup has driven Manchester United on in the Premier League.
After reaching last season's European final, the Red Devils failed to make it out of the group stage this time around, dropping out after defeat at Swiss side Basel.
Sir Alex Ferguson's men also suffered a shock defeat to Championship side Crystal Palace in the Carling Cup quarter-finals to further deplete their chances of silverware.
Motivation
Since those setbacks, United have taken out their frustrations on their top-flight opponents, producing 16 goals from their last four league matches.
Right winger Valencia believes their improved form, which has seen them wipe away Manchester City's lead at the top of the table, has been inspired by disappointment elsewhere.
The Ecuador international said: "Those defeats have really focused our minds.
"I suppose both results were unexpected, certainly the defeat in the Carling Cup was a huge shock.
"The biggest blow is the Champions League because we're a big club and we're expected to be fighting to win the competition, not just qualify from the group.
"We reached the final last season and it hurts to go out so early but we're using that hurt.
"The group now tries harder in training and we're going into games with a determined attitude because we've got to win something.
"Whether it is the Premier League, Europa League or FA Cup. - we have to make sure we are involved in those trophies and we have a renewed focus.
"The important thing is that we keep on picking up points and building the momentum."
Team effort
Suggestions have been made that United's improved form is down to better showings from Valencia and star frontman Wayne Rooney.
But the 26-year-old winger added: "It's not just Wayne and myself, it's more a case that as a squad we bring the best out of each other. We all push in the same direction to help each other.
"Wayne's been at a good level all season, really on top form and he's showing how valuable he is.
"Wayne gives the ball quickly, so it gives you the chance to be quicker and act sharper yourself."