Gower has Spurs in his sights
Swansea's experienced midfielder Mark Gower is keen to impress against his former club Tottenham this weekend.
By Chris Galea
Last Updated: 29/12/11 1:13pm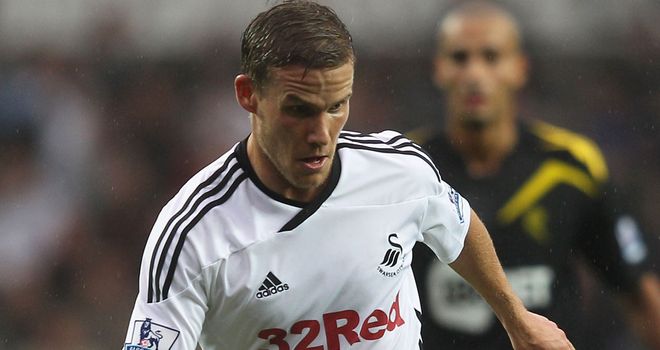 Swansea's experienced midfielder Mark Gower is keen to impress against his former club Tottenham this weekend.
The 33-year-old came through the ranks at Spurs, but left in 2001 to join Barnet after making just two League Cup appearances for the club.
Since then Gower has worked his way back up the Football League, with a five-year spell at Southend taken in before helping the Swans become the first Welsh club to reach the Premier League last season.
The buccaneering midfielder will return to White Hart Lane in late March, but welcomes his former side to the Liberty Stadium on Saturday and he told skysports.com about his time as a youngster with the club he supported since childhood.
"The best thing about my time at the club is the fact that I'd stood on the stands like every other Spurs fan over the years," he said.
"My whole family are Spurs supporters, I was born in Edmonton, my dad and my Nan still live there now.
"I started going to games as soon as my mum thought I was old enough, right up until I starting playing myself and that's the dream, when you're a kid and you support someone, you want to play for them.
"I had a chance when David Pleat was caretaker manager and I played a couple of games in the League Cup the year we won it and things were looking good.
"He was talking me up and I thought I was going to get my chance, but George Graham came in and I just wasn't his cup of tea.
"He just never gave me a chance, with things just seeming to disintegrate from there and the next thing I knew I was at Barnet.
Losing touch
"I don't really speak to any of the current squad there now because although Ledley King was the year below me and I had a good few years with him, you tend to lose touch over the years.
"It will be nice to bump into Ledley again this weekend and catch up with him because he is a really decent guy.
"I'm really looking forward to the reverse fixture though because I've got so many memories of White Hart Lane from when I went there as a kid.
"I had the privilege to go back there twice in my Southend days because we drew them in the FA Cup and the League Cup, so I've already gone back there and played which was really special.
"But it will be even more special this time around as I'm in the same league as them now.
"We'll go there on level terms and hopefully do ourselves justice, plus at that point in the season every point will be crucial."