Enrique wants good reception
Liverpool defender Jose Enrique hopes the travelling Newcastle fans will not be too hostile when he comes up against his former club at Anfield.
Last Updated: 29/12/11 11:20pm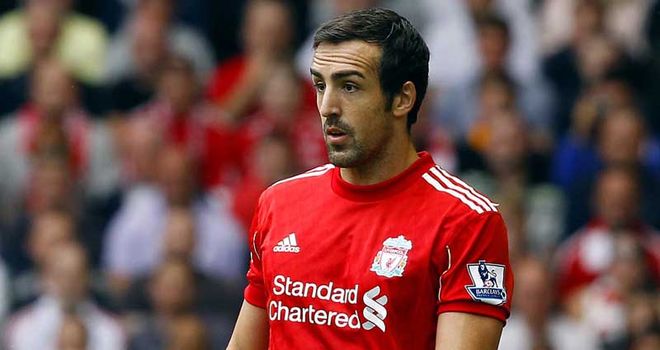 Liverpool defender Jose Enrique hopes the travelling Newcastle supporters will not be too hostile when he comes up against his former club at Anfield on Friday night.
The Spaniard had four good years at St James' Park, one of which was spent in the second tier of English football after relegation in 2009.
On their return to the top flight he had one further season with them before, having criticised the club's lack of ambition after they sold key players, he departed to Anfield this summer in a £6million deal.
Having watched the likes of Andy Carroll - now his Liverpool team-mate - and Kevin Nolan leave he spoke out about the lack of investment at Newcastle.
But while Carroll is expected to come in for abuse on Friday, Enrique would like to think that the Toon Army will give him a good reception.
"I hope they (the fans) understand," said the 25-year-old. "I gave 100 per cent and no-one can say anything different.
"I played in the Championship for them when they dropped down because I thought it was my mistake too.
"I had some very good moments there. I wish them the best because they have amazing fans there and it is an amazing city.
"But you cannot say no when a team like Liverpool comes for you. We are maybe not in the best position now but it is one of the best teams in Europe."
Amazing
Enrique has settled in well at Liverpool, starting every Premier League match, but he still thinks fondly of his time on Tyneside.
And he is pleased with the way his former club have proved their doubters wrong this season, sitting just a point behind the sixth-placed Reds.
"I still love Newcastle and I think all my life I will love them but I play for Liverpool now and I hope I can get three points because that is more important," he added.
"They sold a lot of players - myself, Andy, Kevin Nolan - and when you do that the team normally drops a little but they are doing really well.
"They have signed players like Demba Ba and he is on fire at the moment, he is amazing.
"They are doing really well and I am happy for them. It is special [to play against Newcastle]."
Champions League push
The lure of Anfield proved too great for Enrique and he now hopes to be part of the renaissance begun under Kenny Dalglish.
"I think we can do better, I think we can be in the Champions League positions," he added.
"But the league is so hard because Manchester City and Manchester United are better than us.
"I think in the summer we started to sign players again and spend a lot of money and I think this club in the future will become one of the best again.
"I really enjoy it here because it is easy to play with the players that are here: players like Maxi Rodriguez, Steven Gerrard and Luis Suarez.
"When you have players like that around you it is easy to play with them and I really enjoy it. I am happy here."