De Rossi still appeals to City
Manchester City boss Roberto Mancini has reaffirmed his admiration for Italian ace Daniele De Rossi.
By Nadia Carminati & Simone Bargellini
Last Updated: 30/12/11 9:51am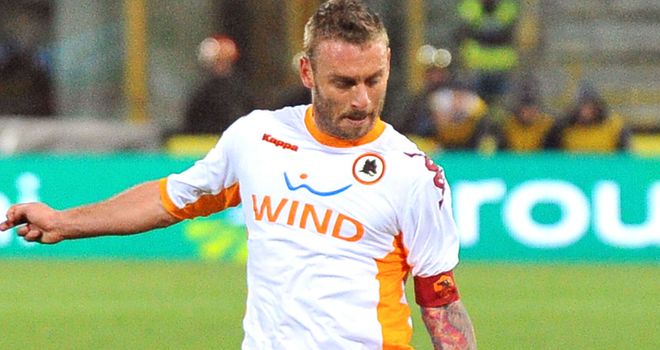 Manchester City boss Roberto Mancini has reaffirmed his admiration for Italian ace Daniele De Rossi.
De Rossi is out of contract at Roma in the summer, and Mancini has never hidden his liking for the midfielder.
The Etihad Stadium chief has stated that he thinks it would be very difficult to prise the Roman-born star away from his hometown club.
But he appears to still be firmly on the trail of the 28-year-old.
"De Rossi? He is a champion and he would be the perfect man to improve City," he told Gazzetta dello Sport.
"If we get the right signals, it is right that we try for him."
Mancini was inevitably quizzed about Carlos Tevez and the on-going transfer saga with the Argentina international.
Talks with AC Milan continue, but he maintains the club stance that he can only leave on a permanent deal.
"Tevez is a champion too and would be a great leap for Milan. He is a striker who makes the difference," he said.
"AC Milan, however, know what the conditions are. You cannot give away a player like Tevez."
New deal
Mancini also talked about his own future and a possible new deal with City, but admits that results will dictate any extension.
"As for the job, I want to win the Premier League. It would be a great satisfaction earning the title with Man City after 34 years," he said.
"A new contract for me? Right now they are just words. It depends on the results, but I'm fine at City.
"I confess one thing: I'm glad to hear that City fans at the stadium chanting my name on the tune of 'Volare'."
Mancini also defended Man City owner Sheikh Mansour, insisting he was not just throwing money at the club.
"He's very careful with human values and respect for others. We met four or five times, which is not much to express an opinion, but I can say that it is very far from the cliché of Sheikh rich and spendthrift. He is not a man who thinks only to spend the money."
On his current playing staff, Mancini was quick to pay tribute to Mario Balotelli and David Silva.
"Mario can always have some idiocy, but he's growing," he said.
"Maturity does not come in one day, let's give him time. He deserves it: Mario is a good guy."
He also insisted that Silva can be ranked alongside any player in the world.
"Silva is at Xavi and Iniesta levels. He's a champion. "
Mancini has previously revealed his anger at losing Daniel Sturridge, and it still irks him as the Chelsea striker continues to impress.
"Sturridge. It hurts to know that he has grown in the City's academy. It was a big mistake to lose him. "