Monk not afraid of Spurs
Garry Monk has urged his Swansea team-mates to take the attack to Tottenham in Saturday's Premier League match at the Liberty Stadium.
Last Updated: 30/12/11 4:10pm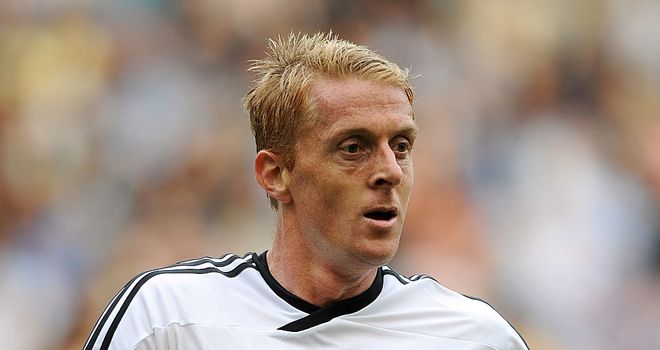 Garry Monk has urged his Swansea team-mates to take the attack to Tottenham in Saturday's Premier League match at the Liberty Stadium.
Spurs have earned rave reviews for their performances this season and will be looking to keep the pressure on Manchester City and United by winning their final game of 2011.
Swansea, meanwhile, sit in 14th place mainly thanks to their superb home form, which has seen them take 16 points and lose just once in Wales.
That defeat came in November's 1-0 reverse to Manchester United, an occasion when Swans boss Brendan Rodgers felt his side had been in awe of their opponents and afforded the champions too much respect.
And club captain Monk, 32, is determined that there will be no repeat on Saturday.
He said: "The talk this week has been about not looking at the names on the shirts.
"We need to come out and have a go from the very start, like we did in the second half against United and I think we will do that.
"They are an attacking side and they are not going to come here and be cagey, like some teams have done. I think it is going to be an open and very exciting game to play in and hopefully we get the better of them and get the result we want.
"We will use their strength and success as motivation. It will be a great occasion, it's another top-four side coming to the Liberty Stadium.
"We have got a great home record and we want to maintain that and we will be doing all we can to make sure we get the right result."
Unstoppable
If Swansea are to claim a major scalp it is likely to be based on a solid defensive foundation, with Monk and his colleagues having kept eight clean sheets so far this season.
The Swans will have to contain a Spurs side laden with attacking flair, including Welsh hero Gareth Bale.
Monk said: "When you look at Bale's goals against Norwich, you realise some things are unstoppable. You have to hold up your hands sometimes and say that was an amazing bit of skill. But we can't just worry about him.
"Look at Kyle Walker, he is their full-back, yet he plays like an extra winger. The midfielders, like Modric, are world-class players, so it is a tough, tough ask for us, but one that we will relish.
"They are probably the form team right now and I think they are genuinely in the title race. I think they think that as well.
"Outwardly they play it down, but inside that changing room I think they believe they have a chance of winning the league.
"The squad they have got is fantastic. You read all the names and even some of the players that don't make the squad, would make it into a lot of Premier League teams. However, it's one of those situations, if you fear it too much, there is no point in playing the game."
Frustrated
Monk will lead Swansea out having being left out of the side for the past four games in favour of impressive youngster Steven Caulker.
But loan signing Caulker, who turned 20 on Thursday, is not available to face his parent club and Monk is eager to take his chance to lay down a claim for a starting role, and admits he has been disappointed with his lack of action in recent weeks.
"I think any player who is not frustrated at being out should not be playing football," he said.
"I've been extremely frustrated but I respect the team, the players and the manager. I have to live with those decisions and respect them, even if I don't like them.
"I haven't knocked on the manager's door, that's not me. I have never been like that. I think that's ridiculous. I am not one who goes and sulks.
"The way I look at it, I want to come in and to do really well and make it difficult for the manager to leave me out next time."