Hamsik happy at Napoli
Napoli's Marek Hamsik has played down reports linking him with a move as he looks forward to the Champions League tie against Chelsea.
By Simone Bargellini
Last Updated: 03/01/12 3:44pm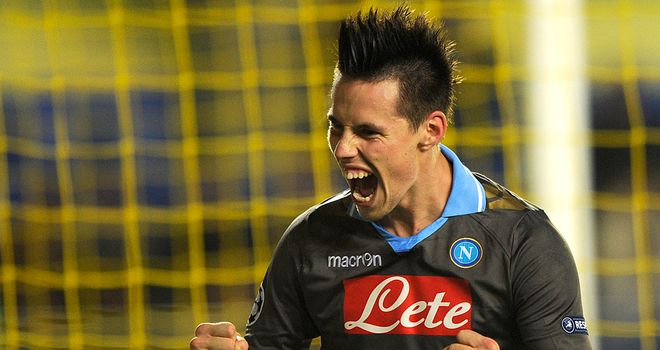 Napoli midfielder Marek Hamsik has played down speculation linking him with a switch elsewhere as he looks forward to the UEFA Champions League tie against Chelsea.
Hamsik has a long-term deal at Stadio San Paolo but reports continue to suggest that he could be a target for numerous other clubs around Europe.
The Slovakia international admits that he does crave silverware but he has no problem with Napoli's ambition and believes he can have a successful future without moving.
"My future? I'm fine, I am very happy in Napoli," Hamsik told Italia 1.
"Every player plays to win, I have not won anything yet and I miss it, but Napoli is doing everything possible to win something."
Napoli finished third in Serie A last season to qualify for the Champions League, and they have progressed to the last 16 after negotiating a difficult group that also contained Manchester City.
Good year
A two-legged clash with Chelsea lies ahead next month and Hamsik is expecting a difficult test, but he is determined to go even further in the competition.
He is also desperate to help Napoli improve on their current standing of seventh in the Italian league.
Hamsik said: "2011 was a good year, although there is some regret for the current position in Serie A, and we must go back up the standings.
"The Champions League? We didn't expect to pass the group of death.
"Now we have to face Chelsea, who are a very strong team with great players, but we want to continue to amaze."