Cabaye backs United for title
Newcastle playmaker Yohan Cabaye has tipped Man United for the title, insisting they are more of a team than local rivals Man City.
Last Updated: 04/01/12 12:35pm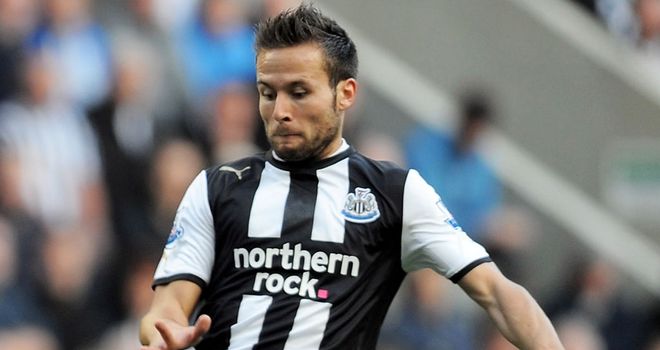 Newcastle playmaker Yohan Cabaye has tipped Manchester United for the Premier League title, insisting they are more of a team than local rivals Manchester City.
City beat Liverpool 3-0 on Tuesday night to pull three points clear of United at the top of the table after Sir Alex Ferguson's men suffered a shock defeat to Blackburn at the weekend.
But despite that blip, Frenchman Cabaye feels the unity at Old Trafford could give them the edge in the title race.
"I think it will be between the two Manchester clubs," he said in the Daily Mirror.
"United are more like a team, because they have been together for a long time. The players have gelled very well together.
"City look less like a team, more like a group of individuals. But [then] they haven't been together for as long. If City gel, they will be a very good team.
"United know what they have to do, and they have a good manager."
Upset
The Magpies will host United at St James' Park on Wednesday evening looking to spring another upset on the Premier League giants.
Injuries to the squad meant Ferguson was forced to field a weakened side against Rovers, while Wayne Rooney was also dropped for the encounter due to off-field conduct.
Cabaye has urged his team-mates to be wary of a United side still stinging from the Blackburn defeat, and knows Rooney will be a particular threat.
He added: "Before I came to England, I was always told that Christmas was the most important time of the season. Unfortunately for United, they've got a crop of injuries at this time.
"The manager had to put out a weird team at the weekend [when they lost at home to lowly Blackburn] because of that.
"But we know they rarely lose two in a row and we will be ready for a backlash. Especially Rooney. He is a huge player, with a lot of quality. But it is not just him in the team - there will be lots of players we have to watch out for."