Ballack set for Leverkusen exit
Michael Ballack appears set to leave Leverkusen in the summer after saying he never intended to stay for more than two years.
Last Updated: 06/01/12 7:10pm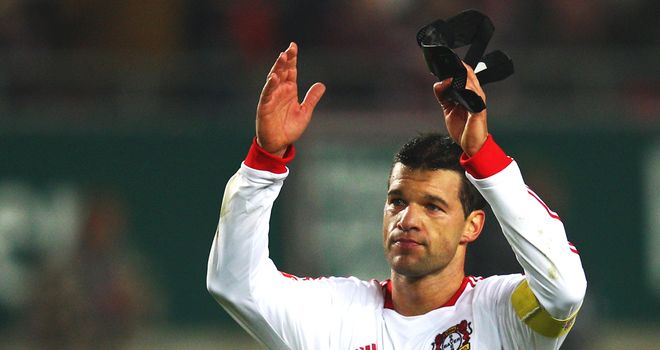 Michael Ballack appears set to leave Bayer Leverkusen in the summer after revealing he never intended to stay at the German club for more than two years.
The former Chelsea midfielder is out of contract at the Bundesliga side at the end of the season after joining 18 months ago from Stamford Bridge.
The 35-year-old took his time to settle in at Leverkusen, but has emerged as a key player this season, captaining the team regularly.
Change
"I signed on here for two years and it was clear for both parties from the very beginning that it was only planned for this period of time," told Germany's Sky Sports News channel.
"I then intended to do something different."
Ballack has yet to decide on the next step in his career, although retirement is not currently in his mind.
"I am not going to give up playing altogether," he added.
"I have never said that. I still have six more months to consider my situation and I will do that without any pressure."
Leverkusen appear resigned to losing the former Germany captain in the summer.
"It is highly likely that Michael will leave us at the end of this season," the club's general manager Wolfgang Holzhauser was quoted by saying by Kicker at their training camp in the Algarve on Friday.
"But certainly nothing is absolutely definite - there is rarely anything definite in football.
"But in my eyes, there is little to suggest that Michael will extend his two-year contract anymore."
Major blow
Holzhauser admits losing Ballack would be a major blow to his club.
"Michael is in excellent shape," he said. "He will certainly be able to play on at the highest level."
Ballack has been linked in the German press with a move to Wolfsburg.