Jags blow alters Moyes approach
Everton boss David Moyes admits Phil Jagielka's injury setback could affect the Toffees' spending in the transfer window.
Last Updated: 06/01/12 7:37pm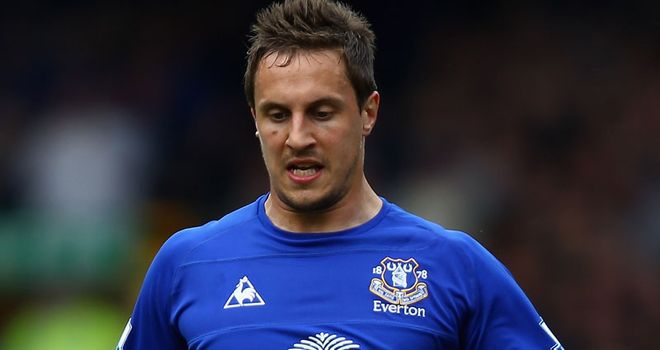 Everton manager David Moyes admits Phil Jagielka's injury setback could affect the Toffees' spending in the transfer window.
The defender has been ruled out for up to six weeks with a medial ligament injury and leaves the Toffees with only Sylvain Distin and John Heitinga as recognised senior centre-backs.
Shane Duffy has been recalled early from his loan spell at League One Scunthorpe but Moyes believes he will still have to find back-up from elsewhere in the form of a loan signing.
Ideally his priorities were to strengthen the midfield and forward line but now he has to add defence to that list.
Difficult
"We are down to two centre-halves so it is going to make it difficult to cope for that time with two central defenders," said the Scot.
"We know we don't have great finances so we know it will be a problem to do that.
"We'd like to add to one or two positions and with injury to Jagielka it leaves us short at centre-half.
"We are looking to try to do something but it will more than likely be in the loan market - but if we see anything out there that we think is right for us we will obviously try to get it.
"It is never an easy time to get players in but we will try."
Jagielka's absence over the next month or so is a huge blow and Moyes knows he cannot replace the 29-year-old's experience with a loan signing so will be relying on Distin and Heitinga to remain fit.
"Losing Jagielka is an incredibly big thing for us because the one thing about the team at the moment is they have been very strong defensively in the main," said the Everton boss.
"Whether it has been Jagielka with Sylvain or John Heitinga that has worked really well for us.
"To lose him is a massive blow to us because he is an integral part of the defence and very important to us.
Leader
"He has speed, commitment, is a little bit of leader and has great recovery defending.
"Even the other night (the 2-1 home defeat to Bolton) he got injured recovering to get a ball he had no right to get to.
"Overall we will miss that athleticism and speed he offers - and you have to remember he is one of the top centre-halves in England."