Reds and police probe incident
Liverpool and the Merseyside police are investigating alleged racist abuse of Oldham's Tom Adeyemi at Anfield on Friday night.
Last Updated: 07/01/12 9:37am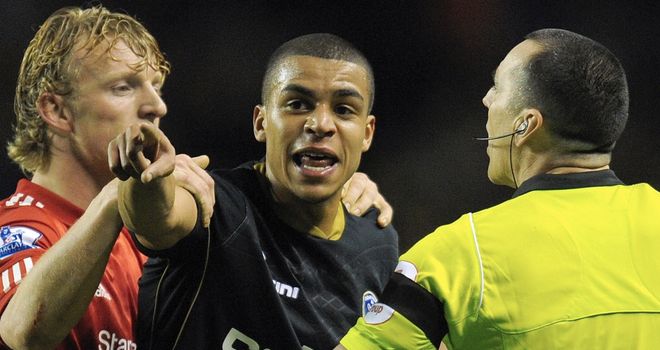 Liverpool and the Merseyside police are investigating alleged racist abuse of Oldham's Tom Adeyemi at Anfield on Friday night.
Adeyemi appeared to take offence to something shouted from the Kop late in the second half of the Reds' 5-1 victory in the third round of the FA Cup. He later gave a statement to the police to say he was racially abused twice by a supporter.
The Latics midfielder, on loan from Norwich, was reduced to tears despite reassurances from his team-mates and Liverpool duo Dirk Kuyt and Steven Gerrard.
There then appeared to be discussion between the fourth official and a police officer down by the tunnel while the match was continuing.
Liverpool announced that no arrests had been made but confirmed in a statement they are investigating the incident with the Merseyside police.
The statement read: "An incident occurred in the second half of the match which is now being investigated by both the club and the police.
"We will continue to work closely with the police and establish the details of what actually happened and will make a further statement in due course."
A senior Liverpool official also told The Guardian: "We will do everything in our power to investigate the matter and ensure the appropriate action is taken."
Merseyside Police said they had begun an investigation but confirmed there had been no arrests in relation to the incident.
Investigation
"Merseyside Police can confirm that no-one has been arrested this evening, Friday 6 January, on suspicion of racially aggravated behaviour during tonight's FA Cup fixture at Anfield," said a police spokesman.
"However, the Force and Liverpool Football Club are investigating following an incident that occurred during the second half of the game.
"The aim of the investigation is to establish the full circumstances surrounding the incident to ascertain if action needs to be taken."
The incident comes at a sensitive time for Liverpool, who have recently seen striker Luis Suarez suspended for eight matches by the Football Association for racist abuse of Manchester United defender Patrice Evra.
Oldham manager Paul Dickov said he had not spoken to the player about the incident, but accepted something had upset him.
"From my point of view I have not spoken to Tom about it but I know the kid and something has been said," he said.
The Scot continued: "He is a placid boy, a kid who has been well-educated with a fantastic temperament and has been with us since the end of August and I've never seen him raise his voice.
"For him to react like that it is obvious something has been said but what has been said I don't know because I've not had a chance [to ask] - I was too busy praising my players.
"He is fine now. He has calmed down. He is a laid-back kid who just gets on with business.
"Our players went and calmed him down and the Liverpool players did as well, which was fantastic and is why they are top professionals.
"I have been told the police are investigating it but that is all I know."