Pardew plots January move
Alan Pardew has admitted he would like to make a signing this month but insists any new player must fit into the Newcastle squad.
Last Updated: 08/01/12 3:45pm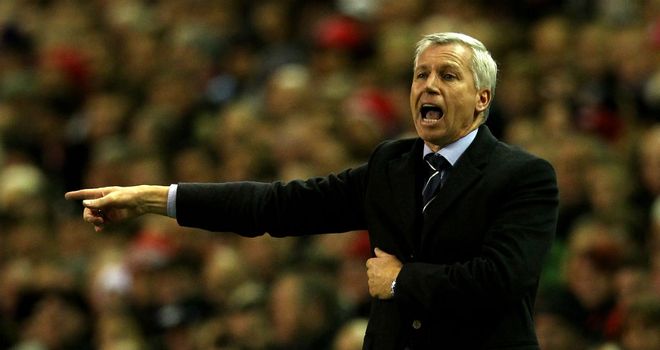 Alan Pardew has admitted he would like to make a signing this month but insists any new arrival must fit into the Newcastle squad and be prepared to patiently wait for a chance.
The Magpies have had an impressive first half to the season and Pardew is happy with the options currently at his disposal, although he would like to keep progressing.
Star striker Demba Ba will be missing for the next few weeks after jetting off to the African Cup of Nations and it has been suggested that Pardew may try to land another attacker.
He is more concerned with finding somebody who has the right attitude and it appears his main target at the moment is to recruit young up-and-coming talent that may not immediately command a place in the starting XI.
"The player (coming in) will certainly be under 26," Pardew said in the Sunday Sun.
"I'm quite relaxed about it. We've got a good group of players and I'd like to bring in a player.
"But you want to bring in a player that fits into the group, because you don't want to spoil what we have here.
Santon praise
"I look at (Davide) Santon who has had to be patient. He came into the football club for a big fee and didn't moan, got on with it and got on with his work.
"Now he finds himself in the team and understands what we're about.
"The new person who comes in might have a similar start. I can't envisage bringing in a player who will go straight into this football team, if I'm honest.
"That doesn't mean to say I'm not going to bring anyone in."
Pardew appreciates how difficult it can be for a player coming in from abroad to adjust to their new surroundings and has been particularly pleased with Santon for showing a lot of character.
"If you bring in a foreign player there's the language barrier, they have to settle," Pardew explained.
"With Santon, he's been able to do that without worrying about playing because he's been on the bench, but I was really pleased with him in midweek, against a top side (Manchester United).
"His passing, everything about him. He's a good player."