Johnson eyes Spurs return
Wolves skipper Roger Johnson is hoping to overcome an ankle problem to lead his team against Spurs on Saturday.
Last Updated: 09/01/12 1:22pm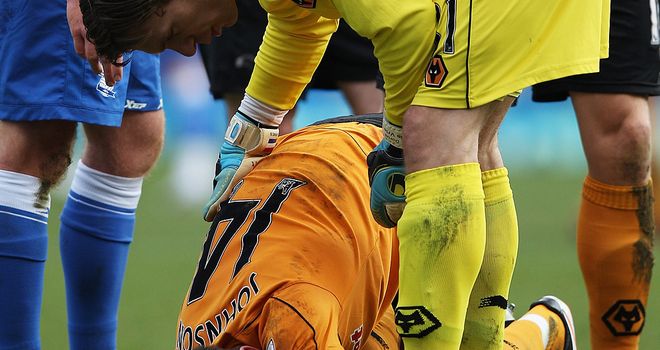 Wolves skipper Roger Johnson is hoping to overcome an ankle problem to lead his team against Tottenham on Saturday.
The defender was substituted during Saturday's FA Cup third round draw at former club Birmingham when he landed awkwardly on the same ankle he had hurt in training the day before the game.
The 28-year-old was replaced in the 35th minute of the goalless stalemate by boss Mick McCarthy as a precaution but now hopes to get back on the pitch as quickly as possible.
He told the club's official website: "I don't know if I'll be out for long.
"I'll try and play next week and we'll just have to see how it goes this week with the physio.
"I expect I'll be seeing a lot of him and then train maybe Thursday or Friday."
Weak ankles
Johnson added he had weak ankles as a child but has worked hard over the years to overcome the problem.
He said: "I just had weak ankles as a kid - I'd catch it coming down the stairs, anything stupid, just small things like that would do it.
"I trained them up, I'd wear strappings and stuff as a kid and I worked hard to strengthen them over the years.
"I don't know whether it was to do with growing pains, it was just one of those things. Even when I played Sunday football it was prone to rolling.
"It happened a lot between the ages of 12 and 16. I used to have to strap myself up which was unusual for a kid of my age. Then when I signed on as a YTS I started wearing strappings all the time.
"Touch wood over the last six or seven years I've not done it at all.
"Unfortunately I rolled it in training before the game and the physio says that's made it weaker and it's gone again.
"I've seen what happened on the video and when I land it just rolls to the side. I'm okay with Adam (Rooney) it was only a nudge, there was no problem there, it was just the way I landed."