Bellamy excited by key month
Craig Bellamy is looking forward to a crucial month for Liverpool as they face both Manchester clubs.
Last Updated: 09/01/12 4:58pm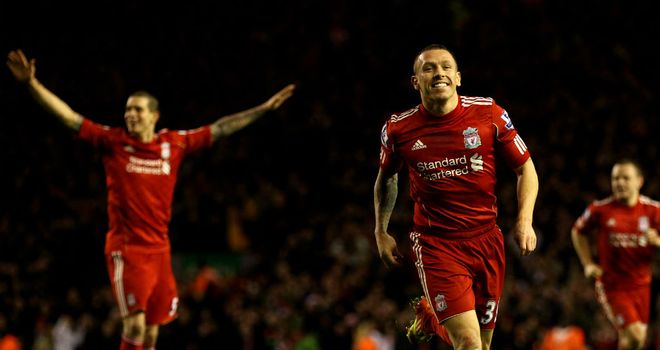 Craig Bellamy is looking forward to a crucial month for Liverpool as they face both Manchester clubs in the FA and Carling Cups.
On top of the Carling Cup semi-final with big spending Manchester City and an FA Cup fourth round tie with fierce rivals Manchester United, the Reds also have three key league games as they seek to stay in touch with the UEFA Champions League spots.
And Bellamy admits he can't wait for the big games in the coming weeks.
He told the club's official website: "This is why you play for Liverpool and this is what it brings.
"It's great for the supporters but I'm much happier playing and being involved in it than watching it as a fan because when you play I find it a lot more fun because I can try to do something about the result on the field.
"This is part of playing for this great club. It's not just playing Man United or Man City, it's when you travel anywhere because we are expected to win and with the crowd we have following us everywhere it makes it that more special."
Former side
The Wales international faces his old side on Wednesday when Liverpool travel to the Etihad Stadium to face City in the first leg of their Carling Cup semi-final.
"We are very fortunate these days that we get to see so much football and we know a lot about every Premier League team, so we know a lot about City," said Bellamy.
"I am fortunate to have played for them so I have an insight into certain players that were there.
"It's a two-legged match and we have to make sure we are still in the tie. We have the second leg at Anfield and this club knows all about two-legged games, so if we can get it back to Anfield still very much in the tie we will have a great chance of getting to Wembley.
"This club is used to getting to semi-finals and finals and all we can do is give it our best and see where it takes us."
Respect
The striker came off the bench in Liverpool's 3-0 defeat at the Etihad last week and was given a fantastic reception by the City fans.
"I respect all of the clubs I have played for. I have always given my all and I'd like them to think I gave my all for them," he said.
"I was very grateful for the opportunity to play there and it was nice they acknowledged that."