Larsson lauds O'Neill impact
Sebastian Larsson says Sunderland were lacking in confidence before Martin O'Neill became boss and has praised him for raising spirits.
Last Updated: 09/01/12 5:28pm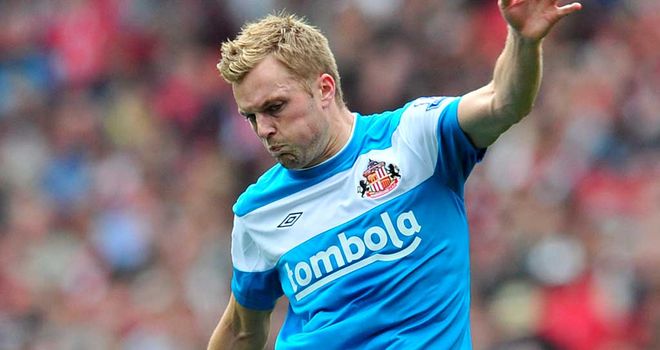 Sebastian Larsson has admitted Sunderland were lacking in confidence before Martin O'Neill took charge and has praised the new manager for raising spirits on Wearside.
The Black Cats endured a dismal start to the season under Steve Bruce and it looked like they would be set for a relegation battle, but there has been a remarkable turnaround in fortunes since O'Neill's appointment.
With just over half of the season gone, the Ulsterman has racked up wins over Manchester City, Wigan, QPR and Blackburn to drag the club up to 10th in the Premier League and he set up an FA Cup fourth-round tie against Middlesbrough on Sunday after a routine 2-0 win at Peterborough.
Larsson, who scored the opener at London Road with a fortunate free-kick, believes the bags of enthusiasm the manager has brought to the team has paid huge dividends and he is now looking forward to maintaining the club's good form in the league and cup.
"We were lacking in confidence before and we got that early win against Blackburn under the new manager and we have just improved from there," Larsson said.
"He has come in with loads of enthusiasm for the game and confidence.
"You can't just go in in the middle of the season and change everything. He has done it very cleverly. He puts his points across and gradually gets it in to us and everyone can see how enthusiastic he is.
"The main thing is that he has restored a lot of confidence in us and I think that has shown on the pitch.
"It has been a brilliant start under him. We have climbed the league, we have won a tricky cup tie and confidence is high.
"It's exactly what we wanted and hopefully we can keep that going now."
Keeping cool
Larson is looking forward to the FA Cup clash with Middlesbrough, having contested many derbies during his seven-year spell in English football.
"It's a local derby so of course it's important that our players keep their cool," he said.
"It's an appetising game and the fans will be excited. It's nice to get a home tie and it will be another testing game for us.
"It's a kind of game that you look forward to as you want to step up to the plate and show what you can do.
"I have no doubt that Middlesbrough will be well up for the game but so will we and we have a good chance of winning.
"We are all desperate to get a cup run. From what I've heard the club hasn't had a cup run lately and the manager was desperate for us to go through."