Clayton says heads still high
Adam Clayton revealed he was as excited as the Arsenal fans at the Emirates when he saw Thierry Henry come on as a sub
Last Updated: 10/01/12 5:30pm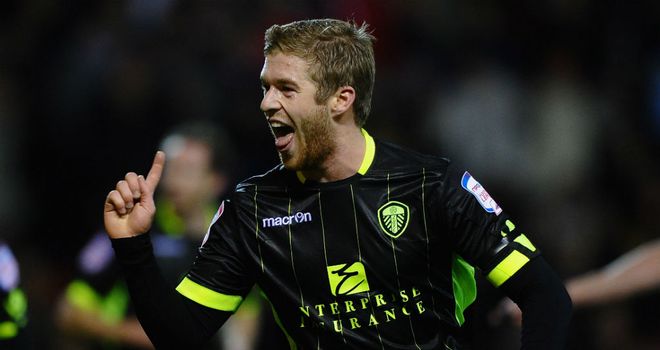 Adam Clayton revealed he was as excited as the Arsenal fans at the Emirates when he saw Thierry Henry stripped off and ready to come on as a sub.
The Leeds midfielder was still in school when the Frenchman decided to leave London five years ago in a £16m move to Barcelona.
Henry took just ten minutes to get back to scoring ways for Arsenal as he tucked away his 227th goal for the club and knock Leeds out of the FA Cup.
And Clayton put aside his disappointment at getting dumped out of the competition to hail the 'fairytale' performance from the mercurial striker.
"It's a bit of a fairytale for him," the 22-year-old said. "You could probably always see that coming.
"I thought we were very unlucky and played well. I thought we could have had a goal ourselves, but I suppose that was how it was meant to be.
"Obviously it's brilliant to play against players like Henry. When I saw him coming on I got excited, and then I saw Theo Walcott was coming on as well and we were all knackered, and I thought: 'They're bringing on two of their fastest players'.
"I was a bit worried but I thought we dealt with it - but unfortunately for us, he finished it off with a typical Henry finish.
"We've a very young defence and there's a lot of 20 and 21-year-olds in the team and I thought we handled it, and hopefully it's a learning curve and we can go on and carry that into the league."
United did have chances of their own on the night, with Luciano Becchio driving over in the first half and Ross McCormack and Mikael Forssell drawing saves from Wojciech Szczesny in the second.
"When you come to places like Arsenal, if you can get two or three chances and limit them to long-range efforts or not very good chances, you've done well," Clayton added.
"And if Luciano can put his chance in, or Ross can score at the end, it's a different story, and unfortunately for us, Henry does what he does best."