Mannone keen on Tigers
Arsenal goalkeeper Vito Mannone is "open" to the prospect of joining Hull City, where he is currently on loan, on a permanent basis.
Last Updated: 11/01/12 1:41pm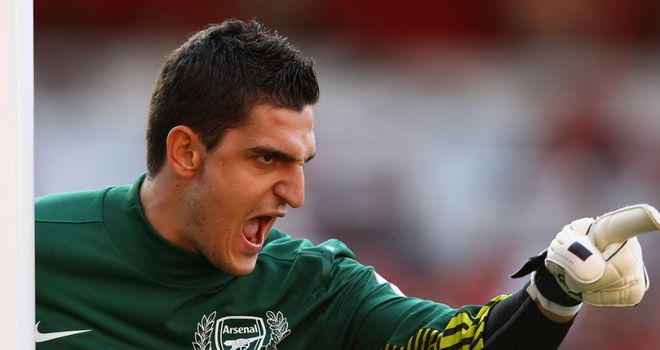 Vito Mannone has admitted he is open to joining Hull City on a permanent basis.
The Arsenal goalkeeper has just started a second loan spell with the Tigers and played for the club in Saturday's 3-1 FA Cup win over Ipswich Town.
The Italian previously saw a temporary stint at the KC Stadium cut short by injury last season, but was still keen to return north after finding himself down the pecking order at the Gunners.
Indeed, with first-team chances so limited at the Emirates, Mannone - who has three years left on his current deal with Arsenal - has already spoken to Hull boss Nick Barmby about staying beyond the rest of the campaign.
Change
"Everything is open and everything can change," Mannone told the Hull Daily Mail.
"If I'm not happy in one place and I want to move on, then I hope they will listen to me.
"I'm open to staying here longer and I have spoken with Nick about this already.
"But we all agreed that we will watch the situation and see where we are in a few months.
"For now, I am just glad to be back and in the team. My first aim is to make points for the team and help the club do well."
Mannone has appeared just once for Arsenal this season, coming on as a substitute in the UEFA Champions League defeat away to Olympiakos.
He confesses to feeling unhappy with his lack of playing time, something his move to East Yorkshire will now put right.
Real push
"This time there was a real push from me to move, I have to be honest," added the 23-year-old.
"I need to play and they know that I'm desperate to come here. As soon as they gave me the green light I was up here in my car.
"I was unhappy this season, I can't lie. It's not good to be training, training, training and then not get the final present at the weekend.
"The most important thing is to feel part of something and feel important. If you don't play, you never get the chance to improve."