Ward - Frimpong is a bonus
Stephen Ward hopes midfielder Emmanuel Frimpong can have a similar impact to the loan signing of Jamie O'Hara 12 months ago.
Last Updated: 11/01/12 6:37pm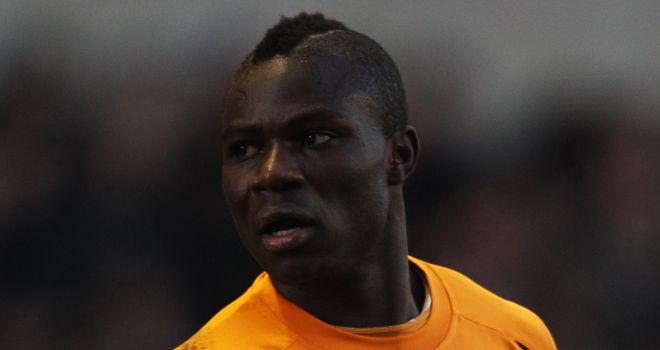 Stephen Ward hopes Emmanuel Frimpong can have a similar impact to Jamie O'Hara and help Wolves maintain their top-flight status.
Midfielder Frimpong arrived from Premier League rivals Arsenal at the start of the January transfer window and will spend the rest of the campaign on loan at Molineux.
The 20-year-old, who has found first-team opportunities hard to come by at the Gunners, made his Wolves debut in the 2-1 defeat to Chelsea.
Ward is optimistic that Frimpong can make the same kind of impression as O'Hara, who arrived on loan from Tottenham 12 months ago and went on to score three crucial goals in the club's successful battle to avoid the drop.
"This time last year the signing of Jamie was pivotal in helping us play and getting back to what we do best," Ward told the club's official website.
"Hopefully we can do that in this window as well.
"Manny's a different type of player, but he's from a similar background to Jamie - a big club where things tend to go well for them most of the time.
"Any help a club such as Arsenal can give to us can only be a positive."
Character
Ward admits he has not only been impressed with Frimpong's abilities on the pitch but also with the player's character, allowing the new recruit to settle in quickly.
"Manny did very well on his debut. It was a massive game for him to come into," the Republic of Ireland international said. "It was nice for him to get involved and he acquitted himself very well.
"He's a young lad with plenty of energy and he got stuck in.
"He's big and strong and he'll be a bonus for us - he's enthusiastic and he wants to play.
"He can put his foot in too, although he's not so used to the way we play and train.
"But he's a nice lad and he's settled in quickly which is good because one thing the gaffer always makes sure about is he brings in good characters.
"And Manny is a really top lad so he'll be a very positive acquisition.
"Hopefully he can bring a bit of that silky play at Arsenal to Molineux for a few months.
"I'm sure if there are one or two more of the same character with similar quality who we can bring in, it will be a case of onwards and upwards for us in the second half of the season."