Fergie defends Scholes return
Sir Alex Ferguson has rubbished claims that Paul Scholes coming out of retirement is a step backwards for Man United.
Last Updated: 13/01/12 3:36pm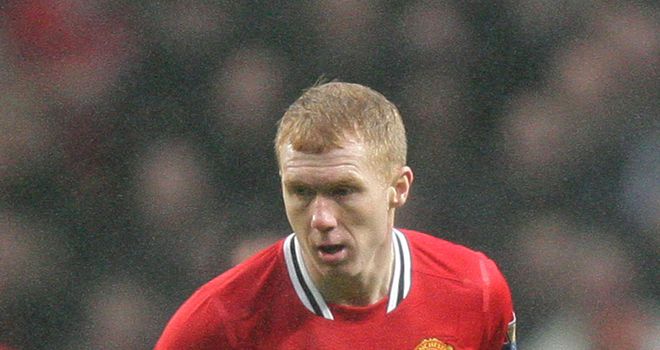 Sir Alex Ferguson has rubbished claims that asking Paul Scholes to come out of retirement is a step backwards for Manchester United.
Ferguson sprang a surprise for Sunday's FA Cup third-round tie at neighbours City by naming Scholes on the substitutes' bench.
United have struggled to find a permanent successor after Scholes quit at the end of last season, with several contenders for the centre-midfield spot having been hit by injury this term.
The Reds therefore approached Scholes in their hour of need, with the former England star agreeing to play until the end of the season.
But some have questioned the wisdom of turning to a 37-year-old, while the decision to sell Darron Gibson, 24, to Everton on Friday has strengthened claims that Ferguson needs to balance the books.
"There were no negatives as far as I was concerned," said the United boss.
"One or two people have been negative. They're making out it's been a 'regressive step' for Manchester United.
"How can it be regressive? You're getting a player for nothing who's been part of the club for 20-odd years.
Composure
"He's not going to play every game but in terms of composure and passing ability, is there a better player going around? Definitely not."
Scholes replaced Nani in the 59th minute on Sunday to make his 678th appearance for the club.
And Ferguson even managed to keep news of Scholes' return from his team-mates as well as the media.
"I don't know how we managed it," he said.
"We registered him on the Friday, and thought somehow it would get out. But we didn't let any of the players know simply because of the impact value.
"We were going away from home in a very difficult FA Cup tie against City. We had 5,000 fans at that end of the ground and as soon as they knew his name was on the team-sheet they were fantastic, there was a great response."