AVB - Luiz can be the best
Chelsea boss Andre Villas-Boas has backed under-fire David Luiz, saying he could become one of the best defenders in the world.
Last Updated: 14/01/12 12:13pm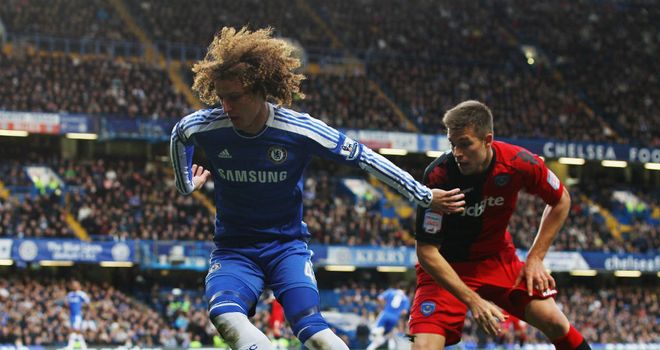 Chelsea manager Andre Villas-Boas has launched a passionate defence of David Luiz, saying he could become one of the best defenders in the world.
The 24-year-old's buccaneering style has made him a favourite with the Chelsea fans since his move from Benfica last January but analysts feel his attacking instincts leave the London club open at the back.
He has come in for some stinging criticism from TV pundits in recent months, who have blamed him for a number of mistakes that have led to opponent's goals.
After being lambasted once more for his performance at Wolves last week Villas-Boas has felt compelled to defend the Brazilian and launch an attack of his own on those who choose to criticise his players.
"If everybody had perfect games, media pundits would have no jobs because there'd be no one to criticise. If that was the case, they'd have to find jobs in professional football, which is a little bit harder," he told the Daily Mirror.
"I think David has played fantastically since the start. You have to agree that there are misconceptions created from the start, since the player's arrival.
"Maybe a player's performances get a stamp he has to carry for the rest of his life. Just maybe, people got that impression with David.
Privilege
"I saw him in Portugal for one and a half seasons, and now I have the privilege of working with him.
"He's going to be one of the greatest central defenders in the world. Why? Because of his characteristics: technical ability, anticipation and speed.
"There is a nature in a Premier League game that you have to adapt to, it's culturally different to other countries. That might be a massive shock, to come from Portugal to England, but you've seen people succeed doing that, including Ricardo Carvalho. David will be the same.
"He does not have anything to prove and doesn't deserve some of the criticism he has received."
Luiz, meanwhile, insists that he is relaxed about the criticism he has received and laughs much of it off - including when Sky Sports pundit Gary Neville compared his play to that of someone being controlled by a 10-year-old on the Playstation.
"I laugh about it," he told the Daily Express. "I replied to Neville through Twitter and told him I loved him.
"He was an excellent player. Now he has the power through the media to say what he likes. But any player needs to be prepared to face this sort of criticism. If you are not, then don't play football. Play something else, or just stay at home and play on the PlayStation.
Grumpy
"Why not smile instead of being grumpy? It's better to have a smile and a nice word for everybody.
"If Chelsea were top of the table, everybody would be praising my skills. But when things are not going well, people criticise.
"I'm a very humble person. I am open to experience, to learning. My style of play was what brought me here. I know it is different. I understand this vision of me people have."
Despite being relaxed about the criticism aimed in his direction Luiz admits that he still appreciates his manager's backing.
He also remains confident the club can challenge for the title, despite currently being 11 points behind leaders Manchester City.
"I'm happy to have that kind of praise," he added.
"Andre is a great manager. I believe we can turn this table round and maybe even end up winning the title."