Vic relief to be back playing
Victor Anichebe confessed it was great just to be on the pitch after coming off the bench to grab Everton's equaliser at Aston Villa.
Last Updated: 14/01/12 7:46pm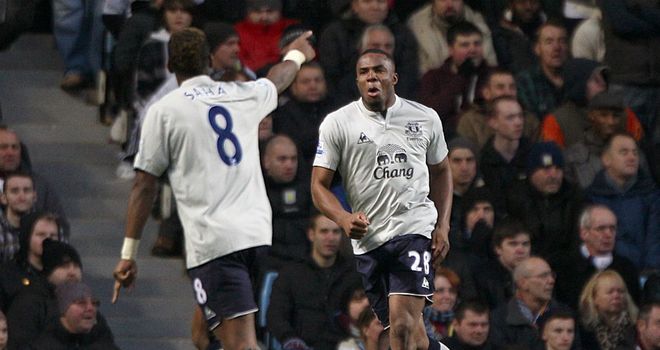 Everton striker Victor Anichebe confessed it was great just to be fit and on the pitch after coming off the bench to grab the equaliser in the 1-1 draw at Aston Villa.
The Nigeria forward has suffered a succession of serious injuries in recent years but is back fit again and netted within eight minutes of coming on to cancel out Darren Bent's 56th minute strike.
It was his second goal already this year after grabbing a late winner against West Brom at the Hawthorns on New Year's Day.
The 23-year-old thought Everton had done enough to win the game but on a personal level was just relieved to be back running around the pitch again.
"I think we deserved more out the game," Anichebe told Sky Sports. "Our two central defenders were doing really well then they got the goal.
"Then we changed and got the goal back, we worked hard to get back in the game. A draw is better than the loss, but we would have liked the win.
Pleased
"I'm really pleased but the main thing for me is to keep staying on the pitch, goal or no goal, and just keep playing, I don't want to be back in the treatment room."
There was an injury scare for Anichebe minutes after netting his goal when he went down holding his knee near the touchline.
The striker admitted he feared yet another serious injury but was relieved to be able to pick himself up and finish the game.
"Sometimes I'm a bit stupid and try to keep the ball in when it's impossible and my knee buckled," he added.
"But I think there was just a fear because I have done stuff in the past so I always fear for the worst.
"I just thank God there wasn't anything serious and we can now kick on as a team."
Anichebe also played tribute to loan star Landon Donovan, who set up his goal, as well as Irish duo Darron Gibson and Shane Duffy, who made their first starts in a royal blue shirt.
"It was an unbelievable ball he [Donovan] has played," said Anichebe. "We've abused him a little a bit because he's come in and played 90 minutes every time three or four times in a row.
"He's got great fitness, he's great on the ball, he's a big player for us.
"The same of Shane Duffy, he was unbelievable for us, and Darron Gibson, all those players did well for us, credit to them.
"It was a good performance by everyone but Landon did create the goal so I've got to say thank you to him."