Duo's return pleases Ferdinand
Rio Ferdinand feels it is great to have two of his top five Premier League players back in the game - and back on the scoresheet.
Last Updated: 17/01/12 6:17pm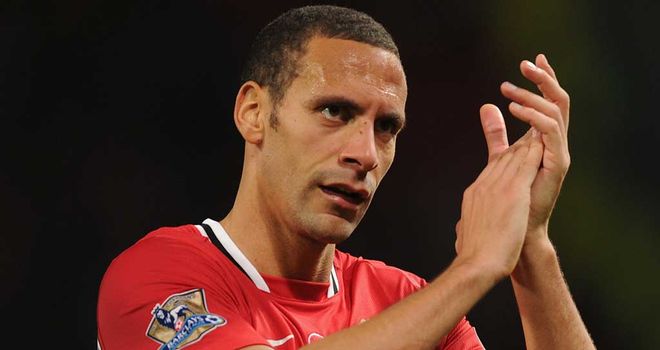 Rio Ferdinand feels it is great to have two of his top five Premier League players back in the game - and back on the scoresheet.
After Arsenal legend Thierry Henry's sensational comeback strike against Leeds, Paul Scholes was also back in the goals on Saturday with the veteran midfielder opening the scoring for Manchester United against Bolton.
On Sunday, the pair will go head to head at the Emirates, as United visit Arsenal knowing they need a win to keep up with title rivals Manchester City.
The build-up to the game is likely to include memories of great deeds from Henry and Scholes, and Ferdinand can understand why.
"It is great to see two of the best players come back," said the 33-year-old defender.
"If I was going to name a top-five list of players to have played in the Premier League, Scholes and Henry would be in there.
"It's fantastic for Arsenal, of course, just as it is for us to have Scholes back.
"Hopefully he's going to help us get over the line and win another couple of trophies."
Ferdinand admitted that Scholes' return to the team was a surprise to him - despite his best efforts to discover the player's intentions.
"I spoke to Scholesy a few weeks beforehand and asked him if he was coming back but he doesn't give anything away," added Ferdinand.
"When he met up with the squad the day before the City game, I asked him again if he was in the squad but he said he was coming to watch as part of the staff.
"I had an inkling he might be back though because he trained the day before with us but it wasn't until the kit man told me before the game that he had brought his gear that I knew for certain."
Making a comeback at the age of 37 is a difficult business - and Scholes' two performances thus far have been patchy - but Ferdinand points out that not many players could return at such a high level.
"There are only a handful of players on the planet who could do it," said Ferdinand.
"Iniesta, Xavi, Messi. They are the type of players who can come in at any time and look as though they could just play football at the drop of a hat at the top level.
"The game is so natural to them."
And Ferdinand knows that having Scholes back in the squad can have benefits on and off the field.
"It's fantastic for the club and the team," he added.
"More importantly, for the young players learning their trade - especially our midfielders - they can see a top player at work.
"His experience is invaluable, as well as his calmness on the pitch and his know-how of the game.
"When you've got wingers like ours and forwards who want to get in behind the defenders and attack teams, a player like him who can put the ball on a sixpence is great."
Ferdinand is confident of being fit for the Arsenal game, and on Tuesday afternoon wrote on his Twitter page: "Just dispelling the rumours that I'm a doubt for sunday! Trained with the team as normal since the game saturday! Coaches ran us hard 2day!"