Kyle facing further surgery
Hearts striker Kevin Kyle will undergo more surgery this month in a bid to save his career after a year-long absence with a hip injury.
Last Updated: 17/01/12 5:58pm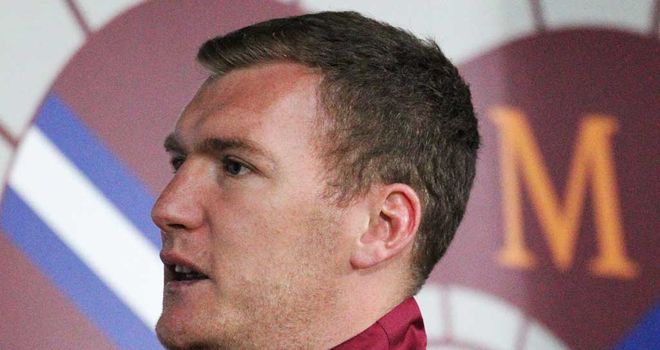 Hearts striker Kevin Kyle will undergo more surgery this month in a bid to save his career after a year-long absence with a hip injury.
The 30-year-old target man has not played since January of last year but is hopeful an operation next week can finally resolve his long-standing hip complaint.
"I've overcome some things in my life and this has been one of the hardest things," Kyle told Hearts TV.
"Nobody's said I'll have to retire. I've got a chance and hopefully the option I've got will work.
"I just don't believe for a minute I need to finish football and I'm hoping the surgery I get at the end of the month will sort all that and give me everything I need to push on again.
"Hopefully it's just an impingement, where two bones are rubbing and they can be shaved off and smoothed. Hopefully that will put an end to this saga and I can resume my football career.
Problems
"I never envisaged it would take this long. I'd just like to get back playing, even if it's for one season."
Kyle endured hip problems earlier in his career while at Sunderland but - after consulting numerous specialists - he is confident the issue will soon be resolved one way or the other.
"Without question, this is what I've been looking for," he added. "If I don't recover from this surgery, I'll know the situation, I'll know what's wrong with me and I'll know why I can't play football.
"I'll be able to take that and understand it. Hopefully once all this is done I've got that improvement needed to return to professional football and see out my career as I hope to see out my career. Not to finish at 30 and worry about the future."
With his Hearts contract set to expire in the summer, Kyle is hopeful the club will remember his excellent form when he first arrived two years ago.
And the striker is prepared to consider any deal, as he added: "It (the surgery) will mean I'll hardly feature again for Hearts this season. But if I can get myself fit and be able to play professional football, then I'm quite prepared to come and play for Hearts for whatever.
Big stress
"I know the situation I'm in. I don't expect to demand wages that I get now.
"I just would like to play more football. If Hearts turned around and made an offer, I'd be more than happy.
"The first six months I had here at Hearts were immense and this last year has been totally horrendous for me and my family.
"It's put a big stress on us and I've missed doing something I really, really enjoyed.
"I felt I was destined to be at this club. The fans took to me and I took to them. I felt like I did enough in that time to merit some of the praise that I got.
"Hopefully in three months' time I'll be able to kick a ball and once that's possible I can start moving forward again."